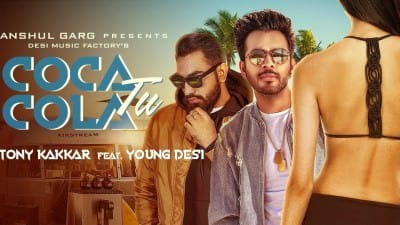 Coca Cola Tu musically is a catchy song with typical Punjabi rap of Young Desi and loving vocals of Tony Kakkar. The artists also drafted down the lyrics of promising song. Tapas Roy has played instruments and Shadab Rayeen mixed, Mastered the music of "COCA COLA TU" releases from company of Desi Music Factory.
TONY KAKKAR'S COCA COLA TU SONG LYRICS YOUNG DESI
​Sanwli saloni adaayein manmohni
Teri jaisi beauty kisi ki bhi ni honi,
Thande ki botal main tera opener
Tujhe gat-gat main pee loon.
Coca Cola tu, Shola-shola tu….
Tu meri, tu meri aur dil ki pyas bujhana,
Tu meri, tu meri din bhar ki thakan mitana.
Coca Cola tu, Shola-shola tu…
Aye! check it out, Coca cola tu
Oh tere sir 'ch joon
Oh ho! anyways, hazraat, Arz kiya hai ke,
Lo ji time si sawer da
Phal khaya ber da
Main kutteyan nu chhed da
Main billiyan naal khed da
Main vehla baitha kini der da.
Ke scene full on tha
Ke kangi-shangi waayi hoyi ae
Manji shanji daayi hoyi ae
Stylish pant maine paayi hoyi ae
Eni der nu aya mainu phone
Mainu Tony kehnda, "Oye, woh bahar ayi huyi ae."
Pehla sip maara tune kiya jo ishaara
Bada pyara hai nazara aur pyaas lagi hai
Aye-haye pyas lagi hai.
Aadha pee lu abhi aadha sham ke liye
Main tujhe rakh lu bachake arey garmi badi hai
Aha aha garmi badi hai
Aha aha garmi badi hai.
Bikini pehan ke aayi zara na sharmayi
Aaj raat ko pakka tootegi charpayi,
Tune jo diya maine pyaar se liya,
Kyun bhooli kehna mujhey ILU ILU.
Coca Cola tu,
Shola shola tu.
Lo ji lakkadbagga jiyo jagga
Chak de fatta, idhar ka na udhar ka na
Miss call'an maro shaal'an
Main keha balle kaali jacket thalle
Yogad tishkam tait bagadbilla
Dadoo, sapp, coca cola, 7 up,
Proud to be pendu baithe Narowal, Zafarwal,
kudiye ni hoya mera bhaida haal
Uthdeyan behnde lende kasme aa main ni kehnda
saare kehnde Coca..
Coca Cola tu, Shola shola tu.
Artists: Tony Kakkar, Young Desi
Album Name: Coca Cola Tu (Single Track)
Music Director: Tony Kakkar
Lyrics Writers: Tony Kakkar
Label: Desi Music Factory