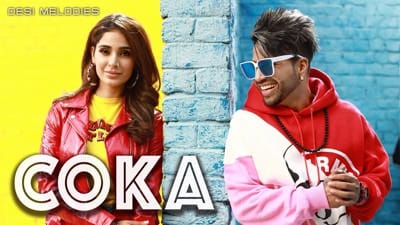 COKA LYRICS (Haye ni tera koka song) from Sukhe Muzical Doctorz is an enjoyable Punjabi song just released from DM – Desi Melodies. Jaani is lyricist of compelling track lyrics. Alankrita Sahai and Sukhe have been filmed in music video of "HAYE NI TERA COKA" directed by only Arvinder Khaira.
COKA FULL SONG LYRICS | SUKHE | JAANI
Haye ni tera koka koka koka….
Billo ni tera koka koka koka.
Ni mitran nu maar mukaave
Ni dil vich varhda jaawe,
Ho nakhra full vikhaawe,
Haaye ni tera kokaa kokaa koka
Bilo ni tera koka koka kokka.
Kalkatte ton leyanda ya leyanda Gujarat ton,
Leyanda Gujarat ton,
Tang mainu kari janda baby kal raat ton,
Haan baby kall raat toh (-x2).
Thoda jeya tricky lagdae,
Trippy-trippy lagdae,
Mainu te hippy lagdae,
Haye ni tera coka cøka coka….
Billo ni tera cøka coka coka.
Sir mera fadeya ae nasha mainu chadeya ae,
Nasha mainu chadeya,
Lagge jiddan ambran da chan ghare vadeya ae,
Chan ghare vadeya (-x2).
Ni supna sach karan de,
Ni ajj too much karan de,
Jaani nu touch karan de,
Háye ni tera kokaa kokaa koka
Bílo ni tera kokka koka kokka (-x2).
Jaani and Sukhe team-up again for their latest song and it is titled as "Coka." The impressive vocals and music have been given by Sukhe. Sahaj Singh & Shreoshi choreographs the dance and Fateh Film Production produces video of Punjabi tune.