"Confession" is a poignant Hindi rap song that delves deep into the emotions of unfulfilled love and the pain of separation. While this song might not have an official music video, the audio version speaks volumes through its evocative lyrics and powerful delivery.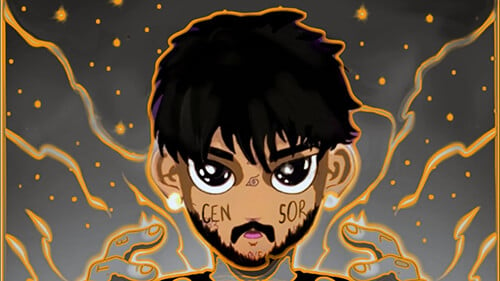 The lyrics of "Confession" are a raw and heartfelt expression of love and longing. They paint a vivid picture of someone left with the ache of unrequited affection. The artist, Censor, weaves a tapestry of emotions, reflecting the torment of unfulfilled love and the profound sorrow of knowing that the beloved will not return.
The song's lyricist, the artist Censor, demonstrates a deep understanding of human emotions. These verses touch upon the universal experience of unfulfilled love, a sentiment many can relate to. The raw, unfiltered emotions in the lyrics make "Confession" a powerful piece of art.
CONFESSION SONG LYRICS
Adhura Pyar Leke Dil Mein Apne So Gaya
Aur Sapno Mein Teri Godi Pe Sar Rakh Ro Gaya
Mujhko Ehsaas Tha Tu Vapis Mudne Wali Nai
Tu Meri Rooh Par Bhi Ab Haq Tere Us Rab Ka Ho Gaya
Kehte Mohabbat Yahan Milti Kismat Walon Ko
Main Hoon Bad'kismat Dafna Do Mere Sawalon Ko
Kehte Mohabbat Mein Na Dekhi Jati Soorat
Dil Todne Ka Haq Kyun Diya Tune Husn Walon Ko
Aaj Bhi Haan Dost Tere Bare Mujhse Poochte
Woh Mere Phone Mein Tasveerein Teri Dhoondte
Main Bataya Unko Hum Dono Rehte Saath Nai
Woh Kehte Kar Mazaak Hum Tum Saath Lagte Khoob The
Ab Kya Jawab Doon Fasa Hoon Kash-Ma-Kash Mein Main
Teri Marzi Ya Khuda Ki Thi Khudse Poochun Main
Jiski Bhi Ho Marzi Toota Toh Andar Se Hi Main
Sunke Aabo Bhi Ro Pade Mehfil Mein Aansu Barse Hain
Ek Din Main Ja Raha Tha Kaam Se Bazaar Mein
Woh Dikhi Mujhko Hasti Huyi Baithi Uski Car Mein
Nazrein Mili Humari Bhare Us Bazaar Mein
Usi Din Baadal Roye Dekh Mujhko Us Hal Mein
Ab Kisi Aur Ke Saath Woh Ghar Basa Baithi Hai
Mere Dil Se Woh Door Kisi Aur Ke Dil Mein Rehti Hai
Jo Karta Hoga Uske Jism Ki Numaish Roz
Aur Mere Dil Mein Aag Uske Ghar Karke Baithi Hai
Par Kya Ki Kar Sakta Hoon Doobte Ko Kinara Nai
Yeh Sachi Baat Hai Sari Kahani Koi Bana Raha Nai
I Know Mujhpe Hasne Wale Bhi Milenge Bohat
Par Sach Maano Mohabbat Mein Chalta Koi Sitara Nai
Main Sach Kahoon Toh Haan Abhi Uske Pyar Mein
Abhi Likhne Baitha Hoon Panno Pe Karke Uska Deedar Main
Ghar Walon Ko Chhod Parwah Kisi Ki Bhi Nahi
Sachi Mohabbat Usi Ise Waise Chehre Hazaar Hain
Ab Mere Zehn Mein Koi Bhi Shor Nai
Sunti Woh Gaane Mere Roz Par Woh Karti Gaur Nai
Le Gayi Hansi Churake Meri Par Woh Koi Chor Nai
Jisme Mukkamal Ho Ishq Aisa Koi Daur Nai
Koi Bhi Aisa Daur Nai,
Rishton Ki Dor Chhodke Woh Mujhse Door Daud Gayi
Mili Woh Vapis Ni Shayad Duniya Ye Sali Gol Nai
Duniya Ye Sali Gol Nai
Mujhpe Ilzaam Hai, Mere Zameer Ka, Ye Mujhpe Ilzaam Hai,
Khush Hai Tu Door Hoke, Kya Tujhe Araam Hai
Bol Na Jaane Jaan Kya Ab Tujhe Araam Hai
The composition by Naman Verma complements the lyrics beautifully. The music, although not described in detail, is an essential element in setting the mood for the song. It's the emotional backdrop against which the lyrical confessions are made.
CONFESSION MUSIC VIDEO
"Confession" tells a story of heartbreak and the lingering pain of separation. While there might not be a music video to accompany it, the song itself is a powerful testament to the emotional depth that music can achieve. It speaks to the hearts of those who have loved and lost, making it a meaningful addition to music.
CONFESSION SONG DETAILS
Track Name
Confession
Singer(s)
Censor
Lyrics Writer(s)
Censor
Composer(s)
Naman Verma