Crop Top is a foxy song, and it has symmetrical performance by G. Sidhu. The very nice lyrics of the song are inked down by G. Sidhu. J-Statik is the instrumentalist of CROP TOP's well-formed music. The deserving music video of the thought-provoking sound is ordered by Anmol Mavi.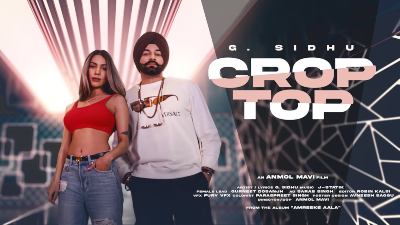 | | |
| --- | --- |
| Track: | Crop Top |
| Performing Artist: | G. Sidhu |
| Lyrics: | G. Sidhu |
| Music Maker: | J-Statik |
| Director: | Anmol Mavi |
G. SIDHU · CROP TOP FULL SONG LYRICS
Reejha Nal Ae Banayi Os Karigar Ne,
Husan Haseena Diya Dhauna Vi Jhuka Jave,
Ni Sun Kaliye Gulab Diye Kande Hi Bana Lai,
Jurt Ni Kisse Di Koyi Hath Tainu La Jave,
Tu Paya Crop Top Vich Drop Top Ni,
Munda Takda Ni Tenu Non Stop Ni,
Thora Jak Da Main Jithe Ashiqi Da Mamla,
Partake Dekhi Jithe Lorh Munda Shamal A
Jeene Bade Bade Dhui Lavake Rok Te,
Oda Tere Muhre Sah Rukhea,
Jehra Charh Da Si Nit Nave Chan Ni,
Chan Vargiye Patt Suttya,
Photo Chakvi Te Caption Inocent Ni,
Tere Karke Main Landra Te Paye Dent Ni,
Ni Tu Chekhani Kardi Ae Jan Jan Ni,
Tenu Sara Pta Tahvi Bane Anjan Ni,
Choga Taliyo Chagauna Than Lea Ni,
Muda Kise Moohre Nahio Jhuke A
Jehra Charh Da Si Nit Nawe Chan Ni,
Chan Vargiye Patt Suttya,
Tu Kare Akarh Mai Pehli Var Bhanano Chadi,
Amreke Ale Sidhu Nal Na Game An Khedno Hatti,
Jine Mukde Ne Rare Utte Din Sun Lai,
Spend Tere Nal Karn Nu Asi Chun Lai,
Jo Tere Bula Te Oh Dil Nal Ni Match Karda,
Akhiya Toh Kuch Nahiyon Chupe A
Jehra Chard Da Si Nit Nave Chan Ni,
Chan Vargiye Patt Suttya,

Crop Top Punjabi Music Video | G. Sidhu
Let's check out latest music video for Crop Top with attractive lyrics finely crooned by G. Sidhu.
Let's enjoy the unputdownable lyrics of G. Sidhu's freshest Punjabi song Crop Top. The lyricist G. Sidhu scripts down the decent lyrics.