Daana Paani title song (From "Daana Paani Film" Soundtrack) with Bir Singh is a recently released song crooned by Amrinder Gill. Bir Singh is lyrics writer and Jaidev Kumar is music composer.
Jimmy Sheirgill starring music video of "DAANA PAANI" is directed by Tarnvir Singh Jagpal with its lyrics drafted by Bir Singh.
DAANA PAANI FULL SONG LYRICS – AMRINDER GILL
Sochan Soch Ke Sifar Nateeja
Chinta Koi Hall Nahi
Jis Jammeya, Jis Sirjeya Tainu
Ki Oh Tere Wall Nahi
Nazar Mehar Di Rakhe Tere Te
Ohle Karda Pal Nahi
Roti Teri Thudan Ni Dinda
Haan Roti Di Koi Gall Nai.
Daana Paani Oh Channa Teh Jag Da
Sab Jee' Usde, Te Ho Hai Sab Da.
Daana Paani Oye Kise Lut Nai Laina
Tera Thud Da Naiyo
Te Vadhu Kol Nayi Rehna -x2.
Kabran Tak De Safar Mukaune
Ki-ki Khed Tamashe,
Kayi Kayi Rone, Kayi Kayi Jhagre
Kayi Khushiyan, Kayi Hasse
Eh Ni Mileya, Oh Ni Mileya
Karnae Pitt Seyape…
Duniya Te Bhejan Wala Bandeya
Saambhu Tenu Aape
Daani Paani Oye Ohne Pehlan Likheya
Teri Nazar Bechain
Tainu Taan Ni Dikheya..
Daani Paani Oye Kithe-kithe Chugna
Jo-jo Daadde Likheya Ohiyo Ho Pugna.
Vareyan De Tu Khaab Sajauna
Agle Pal Di Khabar Naiyo
Duniya Apni Karni Chauna
Bhora Tainu Sabar Naiyo..
Mehal Manare Chete Tainu
Chete Apni Kabar Naiyo
Haq Di Adhi Kha Laiye
Poori Layi Kariye Zabar Naiyo…
Dana Pani Oye Lekhon Vadh Na Mile
Ohda Shukar Manaa
Ainve Rakh Na Gile,
Dana Pani Oye Kaisi Hai Khumari,
Daate Naalo Vadh Ke
Daat Hoyi Pyaari -x2.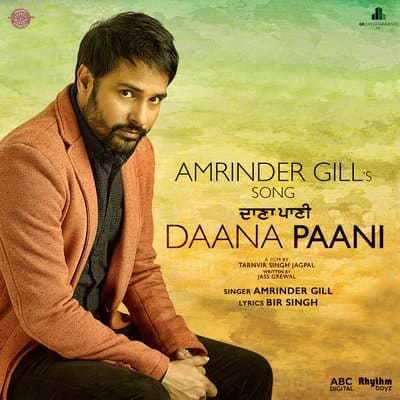 | | |
| --- | --- |
| Album Name: | Daana Paani (From "Daana Paani" Soundtrack) [with Bir Singh] |
| Performers: | Amrinder Gill |
| Songwriter: | Bir Singh |
| Video Director: | Tarnvir Singh Jagpal |
| Music Director: | Jaidev Kumar |
| Label: | Rhythm Boyz |