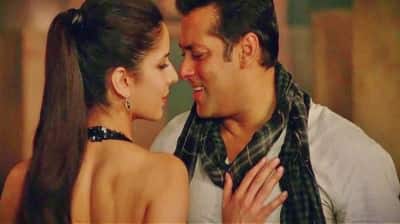 Daata Tu Lyrics is a Hindi devotional song from Tiger Zinda Hai. The film soundtrack has vocals from Shreya Ghoshal. Irshad Kamil is lyricist and the actors who performed are Salman Khan and Katrina Kaif.
DAATA TU SONG LYRICS – TIGER ZINDA HAI
Honsla Hai Tere Honey Se
Asmaan Ke Koney Koney Se
Rehmat Barsa De Tu
Rahat Pohnchade Data Tu, Data Tu
Apni Panaah De Tu
Rahat Pohncha De Daata Tu, Daata Tu.
Mushqil Ko Aasan Kar De
Mushqil Ko Shayad Aye
Dil Se Jo Maange Koyi
Sunta Dua Hai To
Ojhal Hain Raahein Saari
Rasta Dikhlade Data Tu, Data Tu.
Tere Aage Phailaya Hai
Daaman Bheegi Ankhon Se
Khali Na Lautana Hum Ko.
Tu Hai Malik, Tu Hai Khalik
Jaisey Bhi Hain Tere Hain
Maaney Kyun Begana Hum Ko.
Be-saharon Ke Sahare
Tere Hote Jo Ishaare
Doobi Naiya Ko Kinare Laata Tu.
Daata Tu, Daata Tu.
Honsla Hai Tere Hone Se
Aasma Ke Kone Kone Se
Rehmat Barsaade Tu
Rahat Pahuncha De Daata Tu, Daata Tu.
Apni Panaah De Tu
Raahat Pahuncha De Daata Tu, Daata Tu.
Haasil Bhi Tu Hi Hai
Aakhir Bhi Tu, Aakhir Bhi Tu
Bheetar Bhi Tu Hai, Baahir Bhi Tu
Baahir Bhi Tu
Tujhpe Tiki Hain Nigahein
Parde Mein Tu Hi Hai, Zaahir Bhi Tu
Teri Madad Maangein
Anbar Aankhein, Bheetar Baahein
Tu Hi Tu Daata Tu, Daata Tu, Daata Tu.