Damaalu Dumeelu Lyrics is a touching Tamil song from Jayam Ravi and Hansika Motwani's latest movie Bogan.The song is performed by Anirudh Ravichander & D. Imman while its video is directed by Lakshman.Rokesh has penned down lyrics of 'DAMAALU DUMEELU' track whose music is given by D. Imman.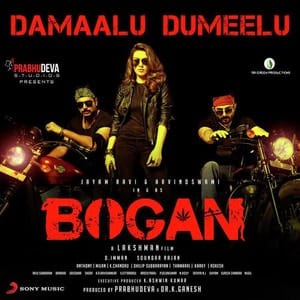 Singers: D. Imman, Anirudh Ravichander
Lyricist: Rokesh
Actors: Jayam Ravi, Hansika Motwani
Album: Damaalu Dumeelu (from "Bogan")
Label: Think Music

Damaalu Dumeelu Lyrics – Bogan Movie | Jayam Ravi, Hansikha & D. Imman
Madham konda yaanai,
enna seiyum theriyuma,
sinam konda singathidam,
thotru oodum.
Mananthaal makara devi,
illaiyel marana devi.
Damaalu damaalu dumeelu dumeelu (x4).
Oruvaadi mudivu pannida,
empesa naane kekka maadden.
Wrong-u panna raatu dhaane,
ellai kotukulla,
soou scene-u top-u dhaane,
nanum oorukulla.
Thappu panna vaaya ọdachi
thattuven da palla
en manasukulla villain-ku
eevu erakkam illa,
damaalu damaalu dumeelu dumeelu (x4).
Pulla puchikella idea varuthu,
senjiduven.
Adasal kudsal edsal kutha,
yaarandhalum mavana,
ultimate-u aalu dhaanda,
seendi paaru ivana.
Ganda keenda aaki utta,
theva illama sivana,
en roọbathula pathuduva,
neerula nee emana
Damaalu damaalu (x16).
Therikka vidalaamaa.
Hey!
en vaazhkkaila
ovvoru naalum
ovvoru nimishamun
aen ovvoru nodiyum naana sethukunathuda.
Ashok!
nee irudhuvaraikkum indha rajiniya,
nanbanaa thaan pathirukka,
inime indha rajiniya virodhiyaa paakka poraa,
today unnudaya dairy-la kurichu vachiko.
Jeikanum nu pọrandhavan naan dhaane,
enakingu kavala illa,
ethunikkum ethiringa ellarum,
povanga mannukulla,
hi chellam.
Safty illadha thangaigala,
eppovum naandhaanda annan,
moonjiya mulusa maathiduven,
yedakoodam ethana panna.
Yethukkum thuninja aalu,
keelu keelu kelu kelu,
oothiduven naanum paalu.
Damaalu damaalu dumeelu dumeelu (x4),
onnumilla mani en kannu vaenumnu kaetiya.
Ongi adicha ondre ton weightu da,
nenjukulla nenjukulla vechirukken dhilla,
yaarum illa yaarum illa,
enna inga vella,
aanavaththa gali pannum,
aiyanaaru pulla,
enga area la enna utta,
ellai saami illa.
I am a hero, I am a villian,
sivajium naan thaan,
mgr-um naan thaan,
idhu eppudi irukku.
Damaalu damaalu (x4),
meesa pillaka,
sharp paiyan sallaka,
fraud pannaka thookiduven allaka.