Darasal Song Lyrics by Atif Aslam from Raabta movie with their translation in English. Learn the meaning of 'Tum Toh Darasal' track's complete Hindi lyrics.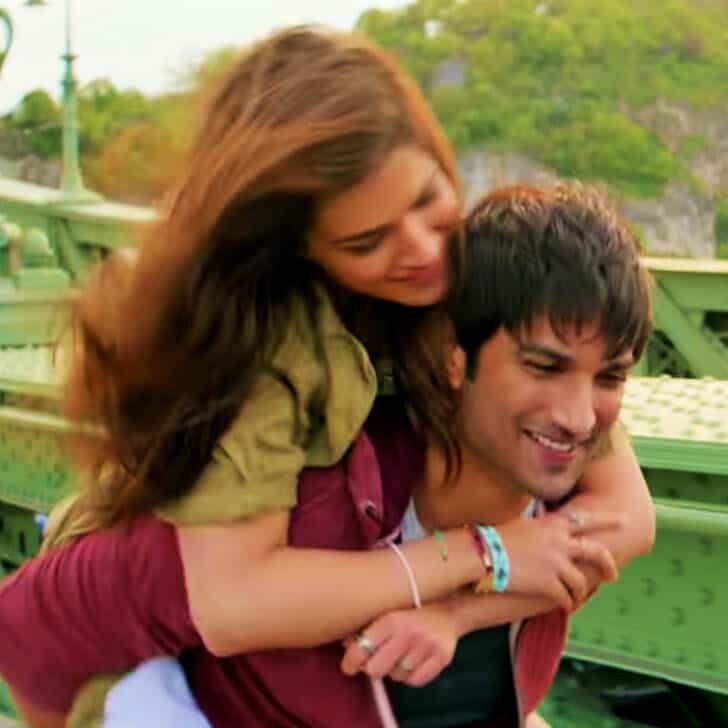 | | |
| --- | --- |
| Song Name: | Darasal (Hindi) |
| Album/Movie: | Raabta (2017) |
| Singer(s): | Atif Aslam |
| Lyrics Writer(s): | Irshad Kamil |
| Music Director(s): | Pritam |
| Music Video Director: | Dinesh Vijan |
| Music Video Features: | Sushant Singh Rajput, Kriti Sanon |
| Record Label: | © 2017 T-Series |
ATIF ASLAM – DARASAL SONG LYRICS ENGLISH MEANING | RAABTA MOVIE
Tum Toh Darasal Khwab Ki Baat Ho,
Chalti Mere Khayalon Me Tum Sath Sath Ho,
Milti Hai Jo Achanak Woh Saugat Ho,
You feel like someone right out of my dreams.
You're always on my mind.
Like a gift bestowed out of the blue.
Tum Toh Darasal Meethi Si Pyas Ho,
Lagta Hai Ye Hamesha Ke Tum Aas Paas Ho,
Thehra Hai Jo Labon Pe Woh Ehsas Ho,
You're like a sweet craving.
Feels like you're always around me.
The sensation that stays on my lips.
Teri Adaa Adaa Pe Marta Main,
Wafa Wafa Si Karta Kyun,
Hadon Se Hoon Guzarta Main, Zara Zara Zara,
I'm crazy, crazy about you.
I'm addicted, addicted to you.
Why do I keep crossing my limits little by little for you?
Tum Toh Darasal Sanson Ka Saz Ho,
Dil Mein Mere Chupa Jo Wohi Raz Raz Ho,
Kal Bhi Mera Tum Hi Ho Mera Aaj Ho,
You're the melody that echoes in my breath.
The secret is hidden in my heart.
You're my future and my present.
Barish Ka Pani Ho Tum, Kagaz Ki Kashti Hoon Main,
Tujh Mein Kahin Main Beh Jata Hoon,
You 're the rainwater, and I'm a paper boat.
I've often been floating on you.
Ho Milne Hoon Tumse Aata, Wapas Nahi Ja Pata,
Thoda Wahin Main Reh Jata Hoon,
When I come to see you, I've never been able to get back.
A part of me stays behind with you.
Tum Toh Darasal Ikk Naya Noor Ho,
Mujhme Bhi Ho Zara Si Zara Door Door Ho,
Jaisi Bhi Ho Hamesha Hi Manzoor Ho,
In reality, you 're a newborn light.
There's a little of you in me, there's a lot away from me.
I always love you, however, you may be.
Hota Hai Aisa Aksar, Dil Yeh Kisi Ko Dekar,
Lagta Haseen Hai Sara Shehar,
It often happens, after losing my heart to someone.
Everything seems so beautiful.
Ab Dekh Tera Hokar, Aisa Asar Hai Mujh Par,
Hansta Rahun Main Athon Pehar,
Now that I've fallen for you, the effect is such that,
I keep smiling all day through.
Tum Toh Darasal Ishq Ho Pyar Ho,
Ati Mere Phasano Mein Tum Bar Bar Ho,
Actually, you're love.
You keep showing up in my stories.
Inkar Mein Jo Chhupa Hai Wo Ikrar Ho,
You're the acceptance hidden behind the denials.