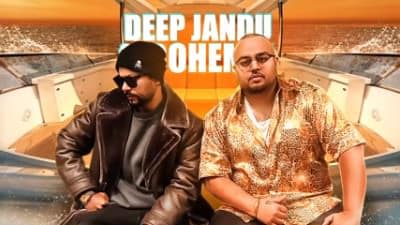 Good Life is most awaited song of Deep Jandu which has Punjabi rap of Bohemia and delightful lyrics of Lally Mundi, It finally has released today as promised by songsters. Abrina is the vocalist featured and music video starring multi-artists is created by Sukh Sanghera.
The most recently released Punjabi song "GOOD LIFE" is Deep Jandu's first track after the controversy about his music. Through the track he has summed-up to share his thoughts about the viral news of him on social media sites. Although He  sends a message to all his fans. Bohemia rapped in track and also jotted its lyrics while Lally Mundi is songwriter of rest of verses.
BOHEMIA – GOOD LIFE SONG LYRICS | DEEP JANDU
Intro dialogue,
Up-down zindagi ch aunde rehnde aa,
Kade badnaam mashoor ho gaye,
Yaaran da dil asmaan warga,
Tut-tut kine taare door ho gaye,
Jina te yakeen hun ohi ne kareeb
No trespassing'an ne dil wale board te
Good yaar beliyan naa' good mehfilan
Zindagi nu rakhe jatt fun mode te.
Is that Dunali ?
Deep, you are ready?
Chak glassy kariye ni toast
Ajj mere naal haye ni mere dost
Cruise de nazare haye ni laine aan
Saare dil de close..
Na gun shot-an da khalaara
Daaru de shot'an da nazara
Na shittalk asi karde
Na shit talk asi jarde,
Ni khulla billo cash ae,
Dash ae, flash ae, chadayi tere yaar di.
Tu jo vi kujh chaawengi
Tu sab kujh paawengi
Munda tere haan da
Dil di jaan da.
Ni sab kujh fit ae, hit ae
Lit ae, ni life tere yaar di.
Ni life tere yaar di -x4.
Is that Dunali ?
Yeah! Rohb dope sara jo
Hun mainu rok munde sunan
Mainu karan game soak,
Rok-tok karde darpok
Ruke na hundi jihdi agge vadhan di soch,
Sadiyan beeti ve aaye gaye fankaar
Par aje vi khalota osay jagah tera yaar,
Ohi team, ohi scheme, kiwein roke jehda sarhey
Main te mere yaar aapde pairan te khade.
Par log failaan mere baare conspiracy
Kehnde soul illuminati nu main vechti
Jadon jeb cho mere kuch kadd ni paande
Fir media ch jaake meri karde bezti.
Haha! Hun jine tere pind ch lok
Ohde ton zyada mere bank ch note
Yeah! hun main vairiyan nu labda nai
Par Numero Uno mere dost.
Champagne ajj kholi ni main es layi
Zindagi ch sab kita embrace ni
Bol-baani naal kayi dil jitte
Haare ni hathyaran wali race ni.
Chill-time asi botal nai gin de
Line'an wich peg table'an te chin de
Kanjoosiyan naa' party ni karde
Shonki bande kade vi na kharche ton darrde.
Ni kadd dite vehm ae, time ae
Kaim ae, chadayi tere yaar di..
Tu jo vi kuj chaawengi
Tu sab kuj pawengi,
Munda tere haan da, dil di jaan da.
Ni sab kujh fit ae, hit ae, lit ae,
Ni life tere yaar di -x6.
Has-has face kite life de drame
Kade sade pishe naaran kade rahe maame
Manzilan nu hug kite pair naiyo shadde
Bina reason'an ton kade fire naiyo kadde.
Tu kargi, sheti hunde impress na
Sadi approach baby easy access na
Billo meri gal sun ja ni
Tere naal jud geya naa' ni
Hune asi gangster lok,
Feeling'an naa' karde ni joke,
Lally naal Deep ae, beat ae, theek ae,
Chadaayi tere yaar di,
Tu jo vi kujh chawengi
Tu sab kujh pawengi,
Munda tere haan da,
Dil di jaan da.
Ni sab kujh fit ae, hit ae, lit ae,
Ni life tere yaar di -x5.
| | |
| --- | --- |
| Album Name: | Good Life (Punjabi) |
| Artists: | Deep Jandu, Bohemia, Abrina |
| Songwriter: | Lally Mundi |
| Video Director: | Sukh Sanghera |
| Music Director: | Deep Jandu |
| Label: | Speed Records |
| Release Date: | 14 Jan,2018 |