Des Malwa is a stunning song, and it has mind-blowing voice lent by Sajjan Adeeb. The startling lyrics of the warble are provided by Manwinder Maan. Desi Crew is the producer of DES MALWA's blue-ribbon music. The phenomenal music video of the refreshing canticle is conducted by A Film By Rimpy Prince.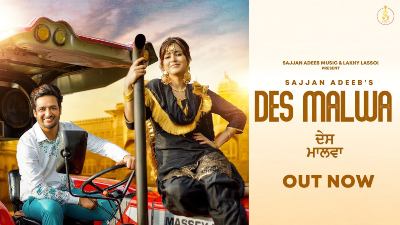 | | |
| --- | --- |
| Song Title: | Des Malwa |
| Performer(s): | Sajjan Adeeb |
| Lyrics Writer(s): | Manwinder Maan |
| Composer(s): | Desi Crew |
| Director: | A Film By Rimpy Prince |
SAJJAN ADEEB | DES MALWA FULL SONG LYRICS
Desi Crew Desi Crew
Tudte A Boch Kiyan De,
Ghodi De Jode A
Sidh Padre Bande An Ji,
Val Shal Jehe Thode A
Muhan De Utte Bhawein,
Nachda Literature Ni,
Hundi Jo Kahi Okdu,
Jattan Da Nature Ni,
Bhawein Sanu Dil Te Likh Lai,
Bhawein De Met Kude,
Khulne Ni Munh Vanea Di,
Latt Warge Dheth Kude,
Rakhda Ni Chette Koi,
Bolan Ton Bhamea Nu,
Sada Hai Des Malwa,
Dass Devi Navean Nu,
Sada Ki Kar Laina Dass,
Tanggiyan Ton Roka Ne,
Pindan De Munde Kahde,
Barsheh Diyan Nokan Ne,
Ambran Te Chadgi Tak Lai,
Chanan Di Tiki Ni,
Tapdan De Baithan Ale,
Padhge A Ikivi,
Badal Koi Chitkabra Jo,
Tibbean Te Varr Jandae,
Haye Tera Ishq Sohnea,
Jeondean Wich Kar Jande,
Kidan Koi Wakhra Kardu,
Roohan Wich Ramea Nu,
Sada Hai Des Malwa,
Dass Devi Navean Nu,
Hunde Jo Samay Purane,
Saukhi Jindgani A
Gardan Ton Wadhke Rakhi,
Sajjna Di Gani A
Babu Te Margi Singh De,
Chithe Padh Laine An,
Wattan Nu Gadhde Gadhde,
Kismat Gadh Laine An,
Fikran Nu Hoonjke Sachi,
La Laiye Passe Ni,
Dule Hoye Bera Wangu,
Chug Laiye Hasse Ni,
Dissda Rabb Nehde Aina,
Dehan Dean Lamea Nu,
Sada Hai Des Malwa,
Dass Devi Navean Nu,
Kai Hunde Van Virani,
Sune Je Rah Biba,
Jogi De Vagli Wargi,
Kadhde An Chah Biba,
Ral Milke Dhupan Mati,
Sare Pee Laine An,
Suni Ji Shal Zindagi,
Hasske Jee Laine An,
Aaja Dass Daiye Tainu,
Pushdi Ki Beena Nu,
Sade Ne Pair Jande,
Sapan Dean Deena Nu,
Virle Parshave Jand De,
Dassde A Samea Nu,
Sada Hai Des Malwa,
Dass Devi Navean Nu,

We hope you enjoyed checking out the spiffing lyrics of Sajjan Adeeb's just released Punjabi song Des Malwa. The songbird Manwinder Maan scripts the fashionable lyrics.