Lyrics to 'Deva Shree Ganesha Song' a Hindi devotional number feat. Hritik Roshan with translation in English, from his famous movie 'Agneepath' is performed by vocalist Ajay Gogavale & Ajay-Atul directed its music. Deva Shree Ganesha full song with lyrics & meaning.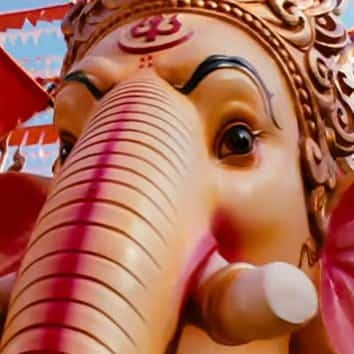 Name of Song: Gun Gun Guna (Hindi)
Album / Movie: Agneepath (2011)
Singers: Ajay Gogawale
Lyricist: Amitabh Bhattacharya
Music Director: Ajay Atul
Actors: Hrithik Roshan, Sanjay Dutt, Priyanka Chopra
Label: (P) 2011 Sony Music Entertainment India Pvt. Ltd.
AGNEEPATH | DEVA SHREE GANESHA SONG LYRICS TRRANSLATION
Deva Shree Ganesha,
Hail Lord Ganesh.
Jwaala Si Jalti Hai Aankhon Mein Jiske Bhi
Dil Mein Tera Naam Hai
Anyone who has You in his heart has fire in his belly.
Parwaah Hi Kya Uska Aarambh Kaisa Hai
Aur Kaisa Parinaam Hai
He doesn't care how it starts and how it ends.
Dharti Ambar Sitaare Hai
Uski Nazarein Utaarein
The sky and earth call out and rid him of any evil eye.
Darr Bhi Uss Se Dara Re
Jiski Rakhwaliya Re Karta Saaya Tera
Ever fear fears the one you protect.
Deva Shree Ganesha,
Hail Lord Ganesh.
Teri Bhakti To Vardaan Hai,
Jo Kamaaye Woh Dhanwaan Hai,
Anyone who earns it is wealthy.
Bin Kinare Ki Kashti Hai Woh,
Deva, Tujhse Jo Anjaan Hai,
Lord, the one who is unknown to you is like a boat without the sail.
Yun Tto Mooshak Sawaari Teri,
Sab Pe Hai Pehredaari Teri,
The rat is your vehicle as such. You protect everyone.
Paap Ki Aandhiyaan Laakh Ho,
Kabhi Jyoti Na Haari Teri,
Sins have never been able to stand up to you.
Apni Taqdeer Ka Woh, Khud Sikander Huaa Re,
He makes his own destiny.
Bhool Ke Yeh Jahaan Re,
Jis Kisi Ne Yahaan Re, Saath Paaya Tera,
The one who devotes himself to you. The one by whom you stand.
Deva Shree Ganesha,
Hail Lord Ganesh.
Ho Teri Dhooli Ka Teeka Kiye,
Deva Jo Bhakt Tera Jiye,
Putting your (feet's) dust on forehead, O lord, which devotee of yours lives,
Usey Amrit Ka Hai Moh Kya,
He doesn't bother about nectar,
Hans Ke Vish Ka Woh Pyaala Piye,
But gladly takes the cup of poison.
Teri Mahima Ki Chhaaya Tale,
Under the shadow of your greatness,
Kaal Ke Rath Ka Pahiyaa Chale,
Does the wheel of time's chariot goes.
Ek Chingaari Pratishodh Se,
With a spark of revenge,
Khadi Ravaan Ki Lanka Jale,
Lanka of Raavan gets burned down.
Shatruo'n Ki Qataarein Ik Akele Se Haare,
Kann Bhi Parbat Huaa Re,
The rows of enemies get beaten by one.
Shlok Bann Ke Jahaan Re,
Naam Aaya Tera Hey!
When, Becoming A Shloka, Your Name Came In, O Lord Ganesha.
Deva Shree Ganesha!
Hail Lord Ganesh.
Ganpati Bappa Moreya,
Hail Lord Ganesh.
Twameva Mata Cha Pita Twameva,
Twameva Bandhu Sakha Twameva,
You Only Are Mother, You Alone Are Father Too. You Only Are Brother, You Only Are Friend Too.
Twameva Vidya Dravinam Twameva,
Twameva Sarvam Mum Dev Deva,
You Only Are Learning, You Alone Are Treasure. You Only Are All That Is Mine, O Lord.
Achutam Keshavam Rama Narayanam,
Krishna Damodaram Vasudevam Harim,
Sridharam Madhavum Gopika Vallabham,
Janki Naayakam Ramachandram Bhaje,
O Imperishable Lord, Let me constantly recite your holy names such as Keshava, Rama, Damodara, Narayana, Sridhara, Madhava, Gopis' beloved (Sri Krishna), Ramchandra the beloved of Janaki.
Hare Ram Hare Ram, Ram Ram Hare Hare,
Hail Lord Ram!