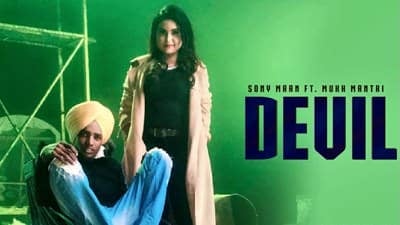 Devil Lyrics (aka Chote more kare na shikar nakhro song) by Mukh Mantri and Sony Maan is an entertaining Punjabi song, released today from 62 West Studio. Happy Bandale Wala is songwriter and the Punjabi music production is done by It's Simar.
MUKH MANTRI DEVIL SONG LYRICS
Vekho aa gaya tuhada Mukh Mantri
Dhamak bass' an wala Mukh Mantri,
Yo yo! Sony Maan, Ranbir Batthan wala tuvi aja stage te.
Ho kaatil ae akhan
Kaatil ae thought oye,
Naam piche janda barbadi likheya
Tu ik adha case laike chaud karda,
Rakaadan mereyan ch attwadi likheya,
Bada aa lagaav gun de khadaake naal,
Choti hundi bhugti tareek chache naal,
Ho coffee-koofi peen layi na jandi date te,
Jandi date te.
Chote mote kare na shikar nakhro,
Devil' an nu rakhdi ae target te (x2).
O pajameyan de naale saale bann' ne ni aunde,
Kehnde dabb wich rakhida glock vaad ke,
Tere jehe velliyan layi gun di ni lod,
Paarh daiye sir karhe maar-maarke.
Oh rap peya aje rap
Hor haiag je aje.
O aanehar bande naa' ni khayida hunda,
Asle de kise kol ghaate ni hunde,
Keda bada kithon tak maar rakhda,
Shaklan te likhe bio-data nai hunde.
Sony Maan jadon vardaat kardi,
Akhan agge kal neri raat kardi,
Tere jahe muh fer chak vekhde, chak vekhde.
Shotay motay kare na shikaar nakhro,
Devil-an nu rakhdi ae target te (x2).
Naal rehnde bande mere Billa Gill, Sonu Batth
Chak lainde gharon gayab kar dinde raato raat,
Patt dinde jarhon banda kar dinde halka
Mukh Mantri aa tera dhoodan pattda
Sunny Deol Gaddar wich putte jiddan nalka,
OH TERA BHALA HOJE!
Ho sadkan de utte maut turdi firdi
Dhidd naal bamb bande banni firde,
Ho gutteran ch mildi aa laash ohna di
Khud nu aa velly jede manni firde.
Bandale aala Happy kehnda reh bachke,
Chitte dini banda lai jande chak ke,
Ho vaddeyan di reh chote dekh-rekh ch,
Dekh-rekh ch.
Chote mote kare na shikar nakhro,
Devil' an nu rakhdi ae target te (x2).
It's Simar!
Vekho check karo paindi dhamak ke nai?
Paarhdiyan bass' an ke nai?
Khull diyan bass' an ke nai?
I am Mukh Mantri.
Ho pink ni mera favorite red oye,
Mardan da jede rang da blood oye,
Ho mardan da jede rang da blood oye.
Vekh darrdi guddi kehe ko'?
O pink ni chote, mera favorite red ae, oye.
Mardan da hunda jede rang da blood oye.
Oh warning chotay tainu
Reh bach ke.
Khatam ho gaya, THE END.
Song Title: Devil
Singers: Sony Maan, Mukh Mantri
Lyrics Writer: Happy Bandale Wala
Music Director: It's Simar
Video Directors: Gurjass Sidhu, Pankaj Rajput
Label: 62west Studio