Lyrics for Telugu song 'Dhaari Choodu' with its translations in English language, from Krishnarjuna Yuddham film is an energetic track sung by Penchal Das. Nani, Anupama & Rukshar are the actors featured in this song. Learn meaning of Dhaari Choodu Song Lyrics.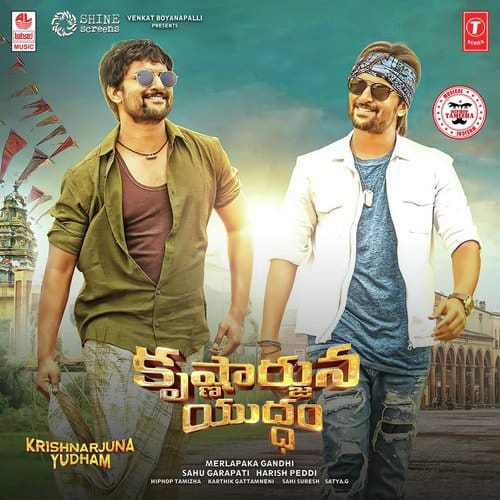 | | |
| --- | --- |
| Song Name: | Dhaari Choodu (Telugu) |
| Film Name: | Krishnarjuna Yudham (2018) |
| Singer(s): | Penchal Das |
| Lyrics Writer(s): | Penchal Das |
| Music Director(s): | Hiphop Tamizha |
| Actor(s): | Nani, Anupama Parameswaran, Rukshar Mir |
| Record Label: | Lahari Music | T-Series |
KRISHNARJUNA YUDDHAM | DHAARI CHOODU SONG LYRICS TRANSLATION
Dhaari Choodu Dhummu Choodu Maama,
Dhunnapothula Berey Choodu (x2),
See the way and the dust dude, watch the row of buffalos.
Kamalapoodi Kamalapoodi Kattamindha Maama,
Kanne pillala Jorey Choodu (x2),
On the bridge of Kamalapudi, watch the swing of the babes dude.
Bulugu Chokkaa Yesinavaadaa Pillaga,
Chilaka Mukku Chinnaavaadaa (x2),
Hey boy in blue shirt with a sharp nose.
Chakkani Chukka Chakkani Chukka,
Dhakkey Choodu Dhakkey Choodu Maama,
Chitra Kannu Konteyvaada (x3),
You have got a beautiful babe, hey dude with naughty looks.
Medaloni Kurraadhaanni Pillaga,
Mugguloki Dhimpinaavuu (x2),
You have wooed the babe living in the bungalow.
Ninnu Kori Ninnu Koru Vanneylaadi Lailla,
Kota Dhaati Peta jerey,
The beauty in your love came to the slum from the fort.
Kurasa Kurasa Adivilonaa pilaga,
Kuriseney Gaandhari Vaana (x2),
In the semi thick forest, a beautiful rain has come.
Ekkarani Ekkarani Kondalekki Maama,
Premaloona Chikkinaavuu (x2),
You are trapped in love climbing over toughest mountains.
Poola Chathri Pattukoni pillaga,
Ooru Vaada thoduraagaa (x2),
Holding a flower umbrella, accompanied by the village folk.
Jantagaane Jantagaane,
Koodinaru Maama chaluva pandhiri needa Kindhaa,
Jantagaaney Koodinaru Maama,
chaluva pandhiri needa Kindhaa,
You have become a couple under the cool shade of the thatched canopy.
MORE SONGS FROM KRISHNARJUNA YUDDHAM