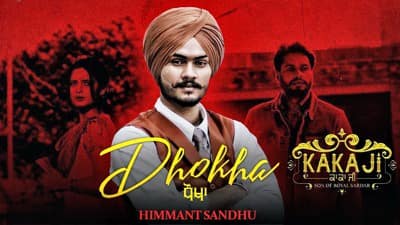 Dhokha Lyrics from Kaka Ji movie is a featured song performed by Himmat Sandhu. Gill Raunta is lyrics writer and Gurmeet Singh is the one who directed its music. White Hill Music releases 'Dhokha' Punjabi track filming Dev Kharoud.
DHOKHA SONG LYRICS — HIMMAT SANDHU
Dil de rogi allarh umre,
Pyar de jaali fas jande,
Hauli-haulli mohabbati keerhe
Haddan de wich rach jande,
Fer mehkhane laaj hunda
Ehna ishq bimaran da,
Dhokha tan dastoor ho gaya,
Sohniya naaran da (x3).
Banke thodi jaan jadon eh shad jandiya ne,
Pyar mohabbat ishq bhulekhe kadd jandiyan ne (x2),
Bada chehra parhna aukha ae,
Doohre kirdar'an da,
Dhokha ta dastoor ho gaya, sohniyan naraan da (x3).
Yaad roohan nu kha jandi ae,
Jadon banauti haaseyan di,
Odon yaari paindi ae fer ranjheya kaaseyan di (x2),
Taiyon jag da haasa ban janda ae,
Putt sardaran da,
Dhokhaa ta dastur ho gaya, sohniyan naaran da (x3).
Muddon jatake baazi pichon kar jaan kakhan di,
Kalli sade naal ni hoyi eh taan ginti lakhan di (x2),
Ik hor aashiq barbaad ho gaya,
Yaar si yarana da,
Dhokha tan dastoor ho gaya,
Sohniya naaran da (x3).
Listen to Himmat Sandhu's latest Punjabi track 'Dhokha' with music video.