Dil Tutda Lyrics from one of the lately released Punjabi songs is performed by Jassi Gill (Aka Jassie).  Nirmaan is songwriter who provided satisfying lyric for track and Gold Boy is name of music director.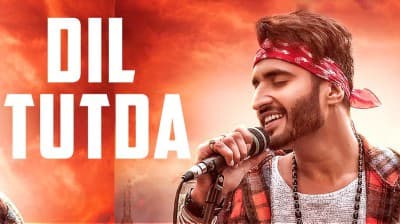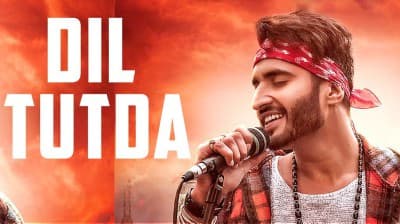 Album: Dil Tutda – Single [Punjabi]
Artist: Jassie Gill
Songwriter: Nirmaan
Music Producer: Gold Boy
Video Director: Arvindr Khaira
Label: Speed Records
Release Dates: 23 June, 2017
LATEST DIL TUTDA SONG LYRICS BY JASSI GILL | TRANSLATION
Ro-roke kujh nai ban'na
Rona shad de
Jida pyar haini naseeb 'ch
Dil cho kadd de,
Crying won't change a thing
So don't do it
Whose love isn't in your life
Get him/her out of your heart
(Forget about it).
Gal mann le jhalleya
Rowenga kalleya -x2,
Listen to me fool
Or you will cry alone.
Hove ilaaj na dil te laggi
Hoyi satt da.
There's no cure to wounded heart.
Dil jida tutda ohnu hi pata lagda
Te jadon tutda odon hi pata lagda -x2.
It's the only person who knows the feel of broken heart
Whose own heart gets broken in love
And one only comes to know about it
When it's already in pieces.
Aasaan nai dil di satt nu injh sehna
Agg da dareya
Dub ke jana ae pena,
It's not easy to suffer from the pain of heart/love
And it's more like drowning & getting through a fire river.
Tikhe-tikhe naina de
Jaal ne bhaide
Pishe pe jaan taan
Shad devi khaide,
The sharp eyes' traps are mean
If they follow you, get rid of them.
Gin gin ke taare
Ohdi yaad sahare -x2,
Din kattda banda nai kade thakda.
Counting the stars, with the help of his/her memories
A man never gets tired.
Dil jihda tuttda, ohnu hi pata lagda
Te jadon tuttda odon hi pata lagda -x2.
Jo rok lave
Dil di dhadkan nu teri
Ohi ban'ni
Maksad jeene da teri,
The thing which stops down you heart beat
(Thing that you love doing)
Will become aim of your life.
Dil de wich teer
Fir wajde ne aake
Pushan'ge haal
Loki ghar wich ja-jaake.
It feels like arrows going through your chest
When people come to your house ask things.
Nirmaan de warge
Pal-pal ne marde -x2,
12 saal jive si ranjha reha katda.
And people like Nirmaan die every moment
Like Ranjha did whole long twelve years of his life.
Dil jida tutda, ohnu hi pata lagda
Te jado tutda odon hi pata lagda -x2.
The only person knows feel of a broken heart
Who has been through it
And he also only comes to know it, when it is broken already.
[Shayari Part]
Tere shehar te teri zindagi de wich
Din akhri ae mera
Ajj ton baad tenu kade chehra dikhna ni mera
Main ishq te tu vapaar kita si
Galti teri nai
Galti taan meri si
Kyonke tu nai, Main tainu pyar kita si.
In your city & your life
It's my last day
And after today you'll never see my face
I loved you but you took it like a business deal
Well it's not your fault, was mine
Because you never did but I loved you.
The dashing artist Jassi Gill is seen as a rockstar in music film of song 'Dil Tutda' with its Punjabi lyrics drafted right from the pen of Nirmaan lyricist. Arvindr Khaira is video director and Speed Records is music releasing company which released Jassie Gill's this amazing track  "DIL TUTDA" on 23 June, 2017. Get meaning of touching song with English translation.