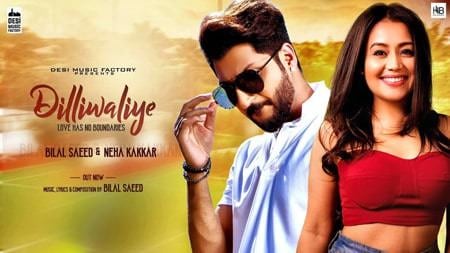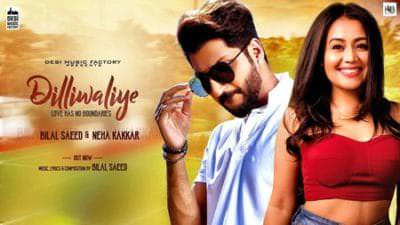 Dilliwaliye Lyrics from the promising duo of Neha Kakkar and Bilal Saeed is out now. It's a romantic track also composed, written by Bilal. The Punjabi tune "DILLI or DELHI WALIYE" has been published by Desi Music Factory and
DILLIWALIYE FULL SONG LYRICS | NEHA | BILAL
Ho munda karda padhayi wich .U.K,
Oh karda ni jo ohnu tu kahe (x2),
Ni tu india do hottie, munda pura sialkoti,
Ohde dil nal jaa mil gayi ae,
Delhi waliye ni, dil lai gayi ae (x2),
Jaan keh gayi ae, te jaan lai gayi ae,
Delhi waliye ni, dil le gayi ae.
Hey! Apniya chhad ke paraiyan,
Maarna kyun mere te try' an
Pata vi ae tainu hai ki india di main?
Hundiyan ne sadiyan larhaiyan.
Karlo ji gall hadh ho gayi,
Dilan di vi sarhad ho gayi,
Dil wale duniya ton puchde ni raah,
Kediyan gallan ch ni tu kho gayi,
Gall dil di je kara, main vi tere utte maraan,
Tuvi sohneya ve sohna lagda ae,
Delhi wali da tuvi dil lai gaya, haye (x2),
Jaan keh gaya ae te jaan le gaya ae,
Delhi wali da tuvi dil lai gaya, oye.
Kal wali gall kal kar laange,
Ajj ni tu dil mera fad ehnu naal rakh lai,
Munda sialkoti gal karda ni chhoti,
Jiwe marzi tu sanu azma ke tak lai.
Sara din takda ae chup-chup mainu,
Main vi chori-chori tere utte rakhi ae nigaah,
Sacha rab jaane sade dowan de bahaane,
Hor dono mulkan de wich hoju sulaa.
Teriyan soniya eh gallan
Kiwe dil utte jhallan,
Mere seenay da tu saah ban gayee ae.
Dilli waliye ni dil lai gayi ae,
Haye dilli wali da tu vi dil lai gaya ae.
Here is music video of Bilal Saeed and Neha Kakkar's recently released duet Punjabi romantic song "Dilliwaliye" and it has video direction of Keoni Marcelo.