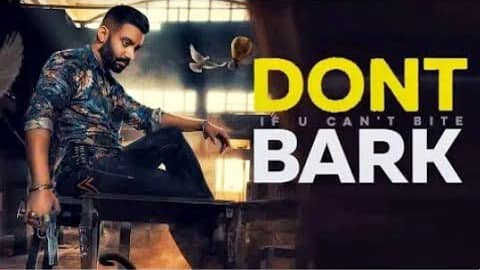 Don't Bark If You Can't Bite Lyrics (aka Ohi number chalda jatt da. Meaning in Punjabi as: Je Cut nahi sakda te bhaunk naa) is a freshly released Punjabi song by Sippy Grewal with songwriting of Sulakhan Cheema. Western Penduz have sorted the music beats nicely and Folk Rakaat is music company.
Update: Meaning of Punjabi song lyrics is avaialble in Hindi.
DON'T BARK IF YOU CAN'T BITE PUNJABI SONG LYRICS
Western pendu! Western pendu!
Daraa kar logon ko woh jeeta hai, jiski haddiyon mein paani bhara hota hai,
Mard ban ne ka itna shauk hai, toh kutton ka sahara lena chhod de katiya.
(A famous dialouge in sunny deol's voice from ghatak (1996) movie.)
Mannde kaake jor vi hik da, samaa aunda aithe har ik da,
Haan mann'de kake zor vi hiq da,
Samaa aonda ethe har ik da,
Waang flood' an naal lai jaiye,
Rusi (Russian) tank aa keda tikda,
Chadat naalo kam stand aunde ne, ehvi tu azma lawi,
Ohi number chalda jatt da, jad ji karda la lawi,
Haan suneya tainu shonk time da,
Jad ji karda pa lawi.
(Don't bark if you can't bite!)
Pablo, Scarface sunde jo kaake,
Sochde aa jatt naal kheh jaan ge,
Dudh wale dand haale muh cho ni digge,
Saale moot wali jhagg waangu beh jaan ge,
(oh bai ah ki kehta! Te beep paade. ## maar beep di!)
Haan, pun wargi shaati cho langh je,
Bullet haale koi baneya nai,
Road-roller jaye jatt de mooray,
Roda ban koyi taneya nai,
Kede jille kine case bolde, RTI (Right to Information act) paa lawi.
Group hona vadda par mard nai honay,
O tainu rokde ni jede, sale humdard ni honay,
Jede tere mooray chup hogay, oh hone koyi hor,
Chadde paarh dayide aa putt, laake 4×4.
Ohi number challda jatt da,
Jad jee karda laa lavi,
Han sunya tenu shaunk time da, jad jee karda pa lavi.
Gang ate velliyan ch fark hunda,
Sade naal vair kaka nark hunda,
Do dabb wich, do jurab'an wich tunne aa,
Tere jaye stud putt aate wangu gunne aa.
Kahle rehnde raund chamber' an ch pain nu,
Niklan main range te revenge lain nu,
Sun ke khadaak pant gilli kar jande jede,
Daso kithe kabja oh lai jaan ge.
Dudh wale dand hale muh cho ni digge,
Saale moot aali jhagg 'angu bej jaan ge.
Haan cheema-cheema kehnde loki,
Idol mannde yaaran nu,
Tiger jatt langh janda jidron,
Gashiyan paindiyan naara nu,
Pehal dayi di vaar karan di,
Ja vi tu cha laah lawi.
This is Jatt!
Ohee no. Challda jatt da, jad ji karda la lawi,
Haan suneya tainu shonk time da, jad ji karda pa lawi.
Sippy Gill returns with an entertaining song "Don't bark if You ban't bite " and lyrics to this track are penned by Sulakhan Cheema with video direction given by B2gether Pros. Minakshi Sharma are Sansaar Sandhu the actors performing in video.