Get the Dooram Karigina Song Lyrics that Sid Sriram performed and are featured in Jetty film of Nandita Swetha, Maanyam Krishna. The lyrics writer Sri Mani wrote-down the Dooram Karigina's Telugu lyrics and Subrahmanyam Pitchuka (Subbu) gave direction to the music video.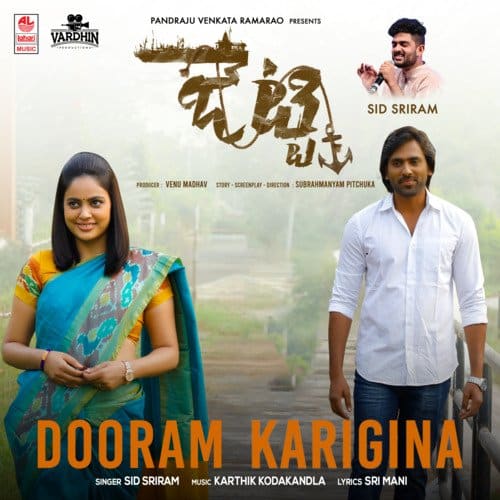 Jetty Telugu MOVIE • Dooram Karigina FULL SONG LYRICS
Dooram Karigina Madhi Mounam Karuguna
Theepi Theepi Matalenno Pedavi Datuthunna,
Gundelona Theepi Bhavam Cheppalenidhena,
Dooram Karigina Mounam Karuguna
Mounam Karigina Abhimanam Karuguna,
Konte Konte Chupulenno Reppa Gadapa Datuthunna,
Gundelona Unna Prema Chupalenidhena,
Na Kalale Selave, Nee Kalale Koluve,
Mooga Kadalai Ponge Manase,
Mooga Alalai Egisena,
Megha Madhilo Chinuku Varase,
Karigi Kurisedhepudule,
Chinni Chinni Adugulenno Nuvu Velle Darilona,
Madhyanunna Addu Geetha Datalenidhena,
Nee Pilupe Madhuram, O Nee Thalape Kathanam,
Thene Unike Edhi Ante, Puvu Yedhalo Sthaname,
Naku Unike Edhi Ante, Nuvu Nadiche Theerame,
Kottha Kottha Rojulanni, Kalamalli Jalluthunna,
Nuvu Nenu Andhulona Reyi Pagalamena.
Dooram Karigina Music Video | Ft. Maanyam Krishna | Nandita Swetha
Enjoy the Dooram Karigina music video from Subrahmanyam Pitchuka (Subbu)'s Jetty film.
Dooram Karigina is a unique Telugu anthem by Sid Sriram. Karthik Kodakandla orchestrated the music for Dooram Karigina from Jetty. The ink slinger Sri Mani scripted the satisfactory lyrics of the Telugu song. Subrahmanyam Pitchuka (Subbu) directed the music video of 'Dooram Karigina', released on May 22, 2021.