"Dua (Paramdhayaavin)", with the translation of its lyrics, is a soul-stirring Malayalam song that transcends the boundaries of language and culture to touch the hearts of listeners. Vishnu Vijay's mesmerizing vocals breathe life into the profound lyrics penned by Muhsin Parari. The song's composition, also by Vishnu Vijay, is a divine amalgamation of emotions, invoking a sense of deep spirituality and universal love.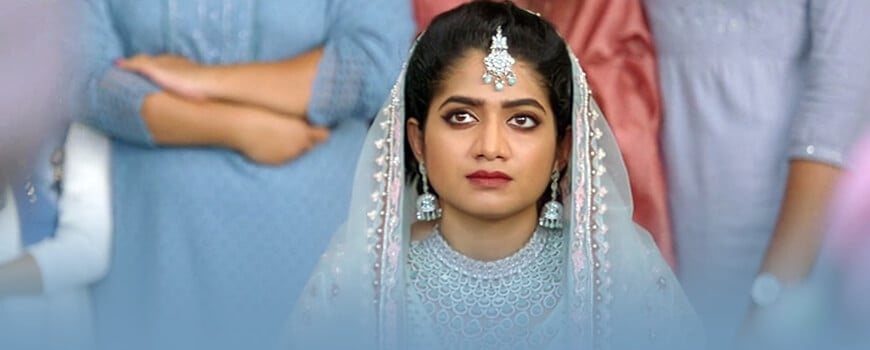 The lyrics of "Dua Paramdhayaavin" beautifully expresses the essence of divine mercy and love that reaches every soul, irrespective of differences. It's a heartwarming prayer seeking acceptance of good deeds by the Supreme, and the profound message resonates with people of all faiths. The song delves into the mystic realms of the heart, exploring the divine presence within and illuminating the path of hope and goodness.
For music enthusiasts and seekers of spiritual enlightenment, "Dua (Paramdhayaavin)" is a must-listen. The song's ethereal melody, meaningful lyrics, and soulful rendition by Vishnu Vijay make it a divine experience that leaves an indelible mark on the listener's soul. As it weaves into hearts, "Dua (Paramdhayaavin)" reaffirms the universality of love, compassion, and the eternal search for inner divinity. The song's enchanting charm and heartfelt plea for divine acceptance make it a gem in the treasure trove of Malayalam music.
SULAIKHA MANZIL MALAYALAM MOVIE · DUA (PARAMDHAYAAVIN) SONG LYRICS ENGLISH MEANING
Paramdhayavin Perum Khajana
O Omniscient One!
Thoranidunno Arindhkolle
The Divine One who opens the door to infinite mercy!
Maraindhidullo Hridhanthenisaram
Let your endless love cascade to every being
Pakarnthkolle Kal Kahoole
May its quintessence echo in every heart
Thakabbalallah! Thakabbalallah!
May Allah accept our good deeds, yours and mine!
Mayam Maratha Maranjulla Maye
O alluring mystery that dwells in heart's secret abode
Noor Kerathe Vathil Kerum Noole
O Supreme radiance that shines where no light can reach
Hanadanakkin Ayathaya Hale
O 'Haal,' that awakens the divinity within
Sherrin Serre Khairun Hairre
O truth of suffering where promise of hope resides
Thakabbalallah! Thakabbalallah!
May Allah accept our good deeds, yours and mine!

Sulaikha Manzil Film's Dua (paramdhayaavin) Music Video | Lukman Avaran | Anarkali Marikar
The music video, directed by Ashraf Hamza, is likely to be a visual treat, enhancing the song's emotional impact. With Anarkali Marikar and Lukman Avaran as the starring actors, the video is poised to bring the emotions and depth of "Dua (Paramdhayaavin)" to life.
Dua Paramdhayavin Song Details
Track Name
Dua (paramdhayaavin)
Movie
Sulaikha Manzil
Backing Vocalist
Vishnu Vijay
Lyrics Writer
Muhsin Parari
Music Producer
Vishnu Vijay
Featuring
Anarkali Marikar, Lukman Avaran