With its motivational lyrics, Duniya is a song that will make you feel the confidence and ambition of a young man who wants to achieve his dreams and goals. This song is a catchy expression of the attitude and determination of a man who does not want to waste his time chasing girls but rather focuses on his career and success. The lyrics, written by Arjan Dhillon, are witty and catchy, and the music, composed by MXRCI, is upbeat and lively.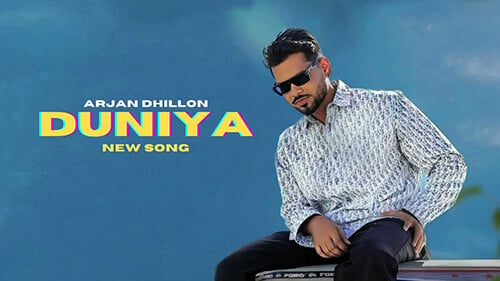 The singer, Arjan Dhillon, delivers a superb performance with his energetic voice and flawless timing. The song is from his new Punjabi album Saroor, a collection of fun and inspiring songs.
ARJAN DHILLON · DUNIYA SONG LYRICS
Haye Horaan Nu Taan Nakhre Te Jaam Deekde
Kayi Ambaar Sanu Kayi Asmaan Deekde
Ho Manzilan Nu Jitke Mukaam Akhda
Ho Nit Nave Yaaran Nu Maidan Deekde
[hundal On The Beat Yo!]
Ho Chadtaan De Jhoolde Aa Jhande Jattiye
Time Vike Har Koi Mange Jattiye
Chaun Wale Naam Binde Binde Lainde Aa
Gabru Nu Daur Ni Zamana Kehnde Aa
Haye Pase Ho Husna Da Ghata Mainu Ni
Duniya Jitan Aye Aan Kalli Tainu Ni
Oh Duniya Jitan Aye Aan Kalli Tainu Ni
Jitan Aye Aan Kalli Tainu Ni, Kalli! Kalli!
Ho Patte Jane Koke Wale Chamkareyan Naal Ni
Soorjan Nal Jang Lishkareyan Naal Ni
Oh Takht Ni Milde Haye Palle Addke
Sari Chotiyan Ni Hundiya Sahareyan Naal Ni
Ho Raah Mitran De Lamme Tu Parande Nal Banne
Mitran De Lamme Tu Parande Nal Banne
Ho Nede Laun Nu Mallo Malli Firdi Mainu Ni
Duniya Jitan Aye Aan Kalli Tainu Ni
Oh Duniya Jitan Aye Aan Kalli Tainu Ni
Ho Catwalk-an Piche Gede Launde Rahe Je
Bina Sadhe Supne Ch Aunde Rahe Je
Ho Sathon Rus Jaan Na Mukkadar Billo
Phone-an Utte Russiyan Manaunde Rahe Je
Ho Aein Hunde Naiyo Batt, Tu Akhan Kole Rakh
Aein Hunde Naiyo Batt, Tu Akhan Kole Rakh
Tipsy Naina Nal Phire Kardi Talli Mainu Ni
Duniya Jitan Aye Aan Kalli Tainu Ni
Oh Duniya Jitan Aye Aan Kalli Tainu Ni
Ho Gabru Janooni Kahdi Chaud Soniye
Main Ambran Te Likh Daoon Bhadaud Soniye
Ho Tera Keats Vi Okay Par Aiddi Gal Nai
Sikhar Hai Shiv Kari Gaur Sohiye
Ho Tu Khaida Mera Chhad Mainu Deekda Ae Jag
Ho Deekda Ae Jag Ni Tu Khaida Mera Chhad
Aye Jaan'de Ainve La Na Galli Mainu Ni
Duniya Jitan Aye Aan Kalli Tainu Ni
Oh Duniya Jitan Aye Aan Kalli Tainu Ni