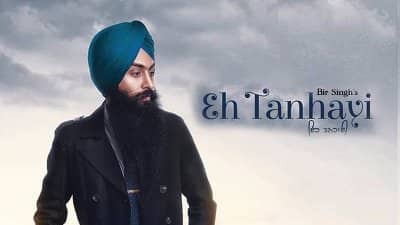 Eh Tanhayi Lyrics from the most poetic Punjabi artist Bir Singh is his latest released song. Gurmoh is featured in this track, he is also director of music and the connectable lyrics of Punjabi song "EH TANHAYI" are also penned by BIR with official release of song presented by Rhythm Boyz.
EH TANHAYI SONG LYRICS
Eh tanhayi raas na aayi
Dil daye duhayi
Ghar aaja tu -x2,
Mainu mere rom-rom cho
Pain bhulekhe tere
Tere baajon raatan warge
Mere surkh sawere,
Teri judayi
Mukdi naiyo
Jind mukne aayi
Ghar aja tu.
Eh tanhai raas na ayi
Dil daye duhai
Ghar aja tu.
Eh judai mukdi naiyo
Jind mukne aayi.
Wajood mera seya hanera
Banke sawera aja tu
Pyar tera jiwan mera
Tu mera lu-lu…
Baagh dile da
Kite ujjad na jaawe
Maut na lai laye
Mainu vich kalaawe,
Mera parchawa
Mainu khan nu aawe
Chan taare ghooran
Eh raat daraave.
Kardi nai main
Ghut kaleje
Darrdi ni main
Ghut kaleje,
Teri yaad lagayi, ghar aja tu.
Eh tanhaayi
Raas naa aayi
Dil daye duhaayi, ghar aaja tu… -x2.
[videopress yaYtgi3A]