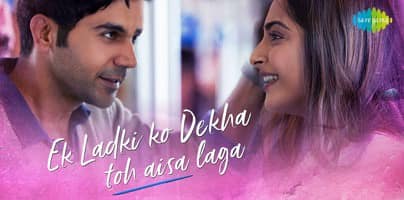 Ek Ladki Ko Dekha Toh Aisa Laga Lyrics – It's a new version in voice of Darshan Raval of revamped title song featured in Hindi film 'Ek Ladki Ko Dekha Toh Aisa Laga (2019)' featuring Anil Kapoor, Sonam Kapoor & Rajkummar Rao.
Gurpreet Saini is a songwriter and Rochak Kohli composes music for a lovely romantic song released by Saregama Music.
NEW EK LADKI KO DEKHA TOH AISA LAGA SONG LYRICS
Akhiyan de kol reh jaane de,
Kehna hai jo keh jaane de, hey.
Tere khayalon, beete raatein,
Dil mera maange ik hi dua,
Tu saamne ho aur karun main baatein,
Lamha rahe yun thehra huwa,
Pehle toh kabhi yun,
Mujhko na aisa kuch huwa,
Deewani lehron ko jaise saahir milaa.
Ik larki ko daikha toh aesa lagaa -x2,
Oh mere soneya ve chad sari galiyan main,
Naal tere tur challeyan main,
Lai chal mujhko duniya se tu door,
Chori-chori jad tainu takeya main,
Khud ko sambhaal na sakeya main,
Chal gaya sajna tera ye fitoor.
Langh jani ve, mar jaani raat,
Kehni jo thi, kehde wo baat -x2.
Ho ek ladki ko dekha to aisa laga -x3.
Singers: Darshan Raval, Rochak Kohli
Album: Ek Ladki Ko Dekha Toh Aisa Laga (Title Track)
Lyricists: Javed Akhtar, Gurpreet Saini
Actors: Rajkummar Rao, Sonam Kapoor, Juhi Chawla, Anil Kapoor