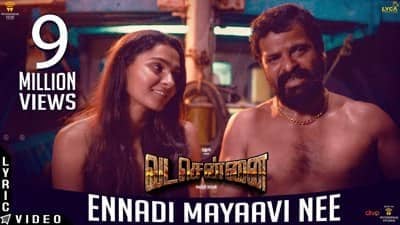 Lyrics for 'Ennadi Maayavi Nee' from 'Vada Chennai' with meaning in English by 'Sid Sriram.' Filming Dhanush, sung by Sid Sriram, composed by Santhosh Narayanan. The following are the full lyrics for the Tamil song 'Hey En Thalaikerura.'
 ENNADI MAYAAVI NEE SONG LYRICS TRANSLATION
Yei, En Talikkerubb
Why do you make me high?
Pon Tadam Botu, En Uraduaw
Why do you leave your footprints? My wife.
Ennedi Mayawi Ni En Nelam Mattus,
What an enchantress are you? You shift my earth.
Andaramakures En Nejam Gadduey
You make me float and show my real-self to me.
Patta Qati Dooki, Ibbo Mittoy Narukkutt
Taking sword on hand you are cutting candies now.
Vita Nench Vari, Un Patta Kirukkutt
If allows, you come and make this land of yours.
En Talikkerubb, Pon Tadam Botu, En Uraduaw,
You are putting crossing. My life is hanging around you.
Ennedi Mayawi Ni
What mesmerize did you do to me, my dear?
En Nelam Mattus, Andaramakures
You shift my earth and make me float.
En Nejam Gadduey
Vanta Suttum Katu, Enna Renda Odaikude
The high winds are breaking me into half.
Chumma ninna kadal ulla nanda dolaikude yeh.
Love for you is killing me inside.
Dinam Kotti Dighkava,
Shall I pour out all every day,
Woru Muttal Meghama,
As a foolish cloud.
Unna Sutti Vaeva, Un Kota Kakama Packwaiye
Shall I live revolving around you? Oh, birdie.
Pabandhu Bhovama Maraname
Shall we fly ahead?
Mahandu Bhovama
We shall forget about the end of life (death).
Uppu Kattul
In the salty breeze.
Itu Banneer Kalama
Is it a season of rose water?
| | |
| --- | --- |
| Song Name: | Ennadi Maayavi Nee |
| Album: | Vada Chennai |
| Singer(s): | Sid Sriram |
| Lyrics Writer(s): | Vivek |
| Actor(s): | Dhanush, P. Samuthirakani, Andrea Jeremiah, Aishwarya Rajesh |
| Record Label: | Divo |
Find out more Tamil to English Translations like 'Ennadi Maayavi Nee' from Dhanush, Sid Sriram.