Get the translation for 'Ennavale Adi Ennavale Song Lyrics,' track sung by P. Unnikrishnan. Kadhalan is the Tamil film that features Prabhu Deva & Nagma on this track. Vairamuthu is a lyrics writer and AR Rahman has directed the music. Learn the meaning for the lyrics to Ennavale Adi Ennavale track.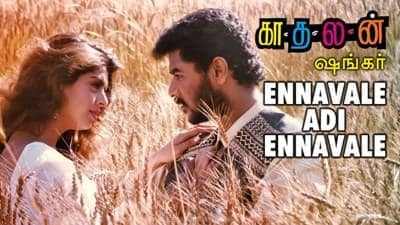 | | |
| --- | --- |
| Song Name: | Ennavale Adi Ennavale (Tamil) |
| Album: | Kadhalan (1994) |
| Singer(s): | P. Unnikrishnan |
| Lyrics Writer(s): | Vairamuthu |
| Music Director(s): | A. R. Rahman |
| Video Director(s): | S. Shankar |
| Actor(s): | Prabhu Deva, Nagma |
| Record Label: | © 2014 Lahari Music |
ENNAVALE ADI ENNAVALE LYRICS | TAMIL SONG | TRANSLATION
Ennavale Adi Ennavale,
Endhan Idhayathai Tholaithu Vitten,
Endha Idam Adhu Tholaintha Idam,
Andha Idathaiyum Maranthu Vitten,
Oh My dear! Oh My dear! I've lost my heart.
I've forgotten even the place where l lost it.
Undhan Kal Kolusil, Adhu Tholainthadhendru,
Undhan Kaladi Thedi Vanthen,
Thinking, l lost it amongst your anklet.
I've come in search of it in your foot prints.
Kadhal Endral Perum Avasthaiyendru,
Unnai Kandathum Kandu Konden,
Endhan Kazhuthu Varai Indru Kadhal Vanthu,
Iru Kanvizhi Pithungi Nindren,
l came to know that love is torture after seeing you.
I'm neck-deep in love & my eyes are popping out.
Ennavale Adi Ennavale,
Endhan Idhayathai Tholaithu Vitten,
Vai Mozhiyum Enthan Thai Mozhiyum,
Indru Vasapada Villaiyadi,
Vayitrukum Thondaikum Uruvamilla,
Oru Urundayum Uruzhuthadi,
The language & my mother tongue don't seem to be mingling.
There is something moving within me without any form.
Kathirunthal Ethir Parthirunthal,
Oru Nimisamum Varusamadi,
Kangal Ellam Ennai Parpathupol,
Oru Kalakamum Thondruthadi,
If you keep longing, minutes become years.
l feel as if all the eyes are watching me & I'm nervous.
Idhu Sorgama, Naragama Solladi Ullapadi,
Nan Vazhvathum Vidaikondu,
Povathum Un Varthaiyil Ullathadi,
ls this heaven or hell? Tell me the truth.
My life & death depends on your words.
Ennavale Adi Ennavale,
Endhan Idhayathai Tholaithu Vitten,
Gokilame Nee Kural Koduthal,
Unnai Kumbitu Kan Adipen,
Gopurame Unnai Saithukondu,
Undhan Koonthalil Meen Pidipen,
Oh, Cuckoo! if you call me, I'll worship you & wink at you.
Oh, Divine! Monolith, I'll put you on my lap & play with your tresses.
Vennilave Unnai Thoonkavaika,
Undhan Viraluku Sodukedupen,
Varudavarum Poongatraiyellam,
Konjam Vadikatti Anupivaipen,
Oh, Moon! I'll put to sleep & crack your toes.
I'll filter & send all the breeze that comes towards you.
En Kadhalin Thevaiyai, Kadhukul Odhivaipen,
Un Kaladi Ezhuthiya Kolangal,
Puthu Kavithaigal Endruraipen,
I'll whisper my need into your ears.
From your foot print design I'll evolve a new poem.
Ennavale Adi Ennavale,
Endhan Idhayathai Tholaithu Vitten,
Oh, My dear! Oh, My dear! I've lost my heart.