Faasle Lyrics is an unaswered love tale, an excellently produced anthem from Coke Studio 10, Episode 2. Quratulain Balouch (QB) alongside Kaavish have made this song a soul-stirring tune by performing it in such a brilliant singing. Jaffer Zaidi is writer, composer of "FAASLE SONG" and here you can read full track's lyric with Translation in English.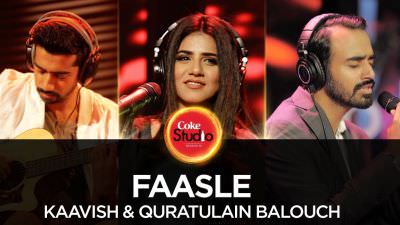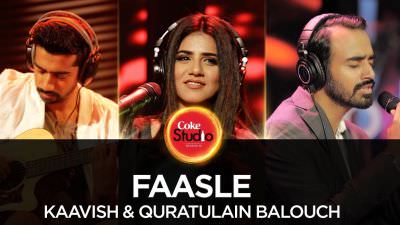 Name of Song: Faasle [Chasm]
Artists: Kaavish, Quratulain Balouch
Songwriter, Composer, Music Director: Jaffer Zaid
Guest Musicians: Adeel Zafar (Guitars), Bradley D'Souza (Bass), Joshua Keyth Benjamin (Keyboards)
FAASLE SONG LYRICS – KAAVISH & QURATULAIN BALOUCH | COKE STUDIO S10, E02
Huwe fasle, jhoote silsile
Toote huwee dil jaayen kahan
Mujhe jo khushi mili na kabhi
Jaye tere sang jaye tu jahan
Meri ye dua hai ke tera jiwan
Chalta rahe saari khahishein ho poori
Teri duniya mein na ho ye kami
Na ho ye kami.
A chasm has opened up
All paths have failed
What cure is there now for broken hearts?
The happiness that always remained beyond my reach
May you be blessed with it wherever you may go
I pray fervently that you continue to prosper in life
And that all your hopes and dreams may come true
May your world never reflect the barrenness of mine
Never reflect the barrenness of mine.
Yaad hai mujhe teri har adaa
Muskuraaṭein teri
Tera mujhse chupke se yoon
Kehna ke tu hai meri
Jaane ye kya ho gaya
Ho gaye judaa.
Your each and every memory is etched into my heart
The way you would smile at me
The way you would whisper to me that "you belong only to me"
God only knows how it came to this pass
How we came to be driven apart.
Tere waaste sabhi raaste
Chhod ke main ayi yahan
Tu toh na mila
Yunhi chal diya
Leke mera dil
Jaane tu kahan.
I abandoned everything for you
I burnt all my boats to come here to you
But you never became mine
You simply walked away
I don't know where you disappeared, taking my heart with you.
Jaaunga kahaan
Main to hu yahan
Tere dil ki aahaṭon men hoon
Sapno mein tu, sochon men tu
Har lamhe mein tu.
Where would I go?
I'm still right here
I'm present in every beat of your heart
You're in my dreams when I sleep
In my thoughts when I'm awake
At each and every moment, you're with me.
Dhadke ye dil tere hi liye
Hoga kisi ka na ab ye,
Ja raha hoon main
Ja rahi hoon main -x2.
My heart beats for no one but you
Now it will never belong to anyone else
I am saying goodbye
I am saying goodbye.