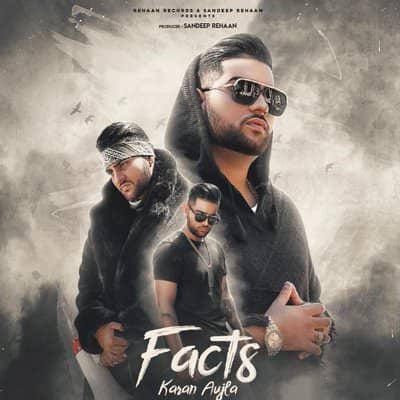 FACTS LYRICS
– An
inspirational
yet motivating latest Punjabi song from artist
KARAN AUJLA
has released today. The singer also has penned the
Punjabi lyrics
for the track, produced by
Deep Jandu
. Be2gether Pros is the team behind making of the music video for "Facts" track and Rehaan Records has released it on YouTube and other digital media platforms.
FACTS NEW SONG LYRICS | AUJLA
Ik ton ik ne rahe jo vik ne,
Paise ne paate oh yaran ch fik ne,
Ethe kise di na koi ae reality
Bande oh haini, rahe jo likh ne,
Paise de joran te likhde lekh ne,
Husan di gall ki body' an fikk ne,
Lip te lakk, vaal te akh,
Fashion banaa leya kudi har ek ne,
Tere ko' tere, mere ko' mere,
Dil hunde kaale jeyon kaale hanere,
Mehnat da mul na har nu pataa
Ohnu pataa ae jine kapre labede,
Gall ah reh gayi ae, nadar ni rahi
Bebe te bapu di kadar ni rahi
Ohde ton pucho ke bapu ki hunda ae,
Jihde naa bapu te mother ni rahi,
Bina akal ton bai nakal ni hundi,
Dil agge kakh bai shakal ni hundi,
Vadde ameeran ton happy ne zyada,
Jina de pairan ch chapal ni hundi,
Changi kyon kende ni kudi naa' yaari,
Bhand ke yaaran ch maarde taadi,
Jedi kudi ton ji milde jawab
Oh automatically wajdi aa maadi,
Mata kithe aa je gau aa mata,
Jine aa jammeya ohnu bhulata,
Maa di ni pooja gau di hundi,
Lokan ne urine vi vikna laata,
Main nai kehnda ke main baala seyana,
Ikkiyan saalan da main aa niyana,
Jande-jande bapu aina sikha gaya,
Haq da khayin oh jina vi khana,
Oh Aujla ni Aujla,
Sachi dassan fakkar ae,
Jiwein life set ae,
Paise da na chakkar ae,
Dilon jeda nikleya, kalla-kalla akhar ae,
Meri taan ji mere lekhan,
Naal bas takkar ae,
Meri zubaan jeyon rap hundi ae,
Naalda digge clap hundi ae,
Yaar hi yaar nu gaal naa bole,
Tareef nai hundi slap hundi ae,
Dhaage taweetan ch god kithe ae,
Toofana manne ji lord kithe ae,
Kede suran wich rabb hai raazi,
Labbi ni kade oh god kithe ae,
Ranjhe jo heeran de
Veere ni veeran de,
Hun ni mul ji painde leeran de,
Pukhe ni saunde kutte ameeran de,
Raaje di gun ae modday wazeeran de,
Kise nu darr na reh gaye akheeran de,
Vairi kamaan hi bane aa teeran de,
End te ikko thaan dabbe ne jande ji,
Chahe kasayi ae, chahe koi peeran de,
Bebe te bapu ton bina main kithe tayin aya,
Kalla hi aya jithe,
Tayin aya, bada kamaya, bada gawaya,
Labda photo ch bebe da saya,
Maa si pyari, pyari ni maya,
Thonu vi yaaro main tahin sikhaya,
Bebe te bapu ni time ji de do,
Main milna chaunda mil ni paya.
Milna chaunda mil ni paya (x2).

Checkout, lyrics for freshly released Punjabi song 'Facts' all hummed, composed, and written by 'Karan Aujla' with music direction of Deep Jandu.