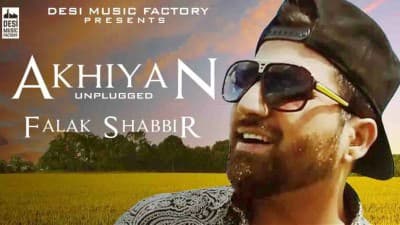 Artist: Falak Shabbir
Music Composer: Saad Sultan
Director: Hstar
Akhiyan with unplugged version from Falak Shabbir is here with Punjabi lyrics, music composed by Saad Sultan. Desi Music Factory named music company has released this song.
FALAK SHABBIR – AKHIYAN UNPLUGGED
Andro-andar ronda renda ae
Judayi pal na senda ae
Baitha udeekan vich teri,
Dil nu main lakh samjhawan
Turda bas teriyan rahwan,
Ehvi hun sunda nai meri
Tainu sinne nal laya si,
Sare ton jagg ton lukaya si
Fer kis diyan nazran lag gayian
Sade pyaar nu.
Aeh akhiyan rondian ne
Yaddan mainu dang diyan ne
Kakkhan wich rulya kyon tu mere aitbar nu.
Aeh akhiyan rondiyan ne
Kyun akhiyan rondiyan ne.
Gum-sum, gum-sum ne ishq diyan galiyan
Kaisiyan eh kaaliyan hawavaan challiyan.
MIl gaya mainu jag eh sara
Tu na bas mileya yaara
Kattan kiwein zindagi de
Reh gaye din chaar nu.
Eh akhiyan rondiyan ne
Yaadan mainu dang'diyan ne
Kakh'an wich roleya kyon tu mere aitbar nu.
Eh akhiyan rondiyan ne
Kyon akhiyan rondiyan ne.
[/wps_column]