Family is a freshly released Punjabi song, and Deep Chahal crooned it. Star Boi Music x well-sorted its music, and Sahil Khokhar directed music video. Deep Chahal penned-down the lyrics for Family track released on April 15, 2021.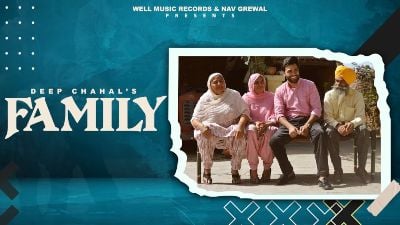 Deep Chahal | Family Full Song Lyrics
Jawar Wala Ae Pind Jatt Da,
Pind Vichale Ghar Bilo,
Dar Kahda Ae Dwar Khula Ae,
Janat Da Hi Dar Bilo,
12 Baje Uthi Da Te 12 Baje Soyi Da,
Nature Fakeer Te Fikar Sanu Koi Na,
Bed Utte Aundi Bed Tea Goriye,
Koi Mohabbat Ni Bebe Wargi Goriye,
Roti Time Nal Khawundi Jehdi,
Sher Putt Akhda Tan,
Sade Layi Hi Mange Kujh Mangi Na Ap,
Aap Bele Bele Yar Ni Na Koyi Kamm Kar Ni,
Sambh Sambh Sambh Rakhe Lanedar Ni,
Sach Keha Ae Kise Ne Kheti Jeha Koyi Dhanda Ni,
Kasam Nal Kehna Bapu Warga Koi Banda Ni,
Kasam Nal Kehna Bapu Warga Koi Banda Ni,
Vade Bai Da Sahara Jivein Shat Nal Sateer,
Akh Chake Na Zamana Jadon Khada Wada Veer,
Kad Ch Tan Shoti Par Rooh Deyan Han Di,
Dil Di A Rani Ik Dilan Di A Jan Ni,
Majhe Val Di A Ap Viah Ke Malwe Ch Augi,
Ghare Mukhtyari Bebe Bad Jo Chalaungi,
Ho Bapu Diyan Bahwan Shota Chacha Wada Taya,
Khet Katheyan Nibhaya Vair Katheyan Ne Dhaya,
Iko Vehde Vich Ral Kathiyan Ne Behna Sariyan,
Chhut Gaye Wadi Jano Wadh Behna Pyariyan,
Ik Taye Ala Bahar Chattu Aunde Sal Kothi,
Name Siron Banu Sari Rahu Purana Ghar Othe,
Chahe Dilan Ch Nehde Bhawein Badan Ch Doori A,
Baki Kamm Pishon Pehlan Famly Zaroori A,
Ho Kehda Dade Da Sunawan Kisse Bade A Sangeen,
Kehnde Jattan Nu Pyari Hundi Sab Ton Zameen,
Raula Vattda Je Chadh Ke Shareeke Bazi Aundi,
Pehla Dade Nal Chak Ke Rafal Dadi Leyondi,
Rahu Sade Kolon Lok Ke Khabardar Akh De,
Pind Wich Goriye Nabardar Akh De,
Pind Wich Goriye Nabardar Akh De,
Sanjha Zindagi Nal Hunda Jina Nal Pal Pal,
End Bandeyan Di Honi A Akheer Vich Gal,
Naha Dho Ke Pair Jadon Dhran Gharon Bahar,
Mere Warge A Jehde Mainu Milde A Yar,
Exchange Ne Number Exchange Ne Kameezan,
Behke Mehfil Ch Jina Nal Bhulde Tameezan,
Ho Jithe Duniya Na Khadi Othe Ehna Hik Tani Si,
Yari Jehi Cheez Koi Duniya Te Bani Ni,
Family Lyrics by Deep Chahal
is the Latest Punjabi song sung by Deep Chahal, and the music of this brand new song is given by Star Boi Music x. Family song lyrics are penned down by Deep Chahal and the video is directed by Sahil Khokhar.