Faraar (2015) Punjabi Movie Trailer 720P HD Gippy Grewal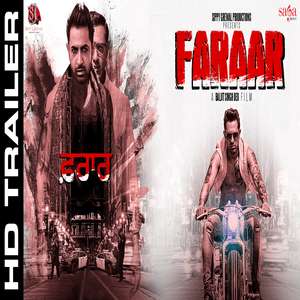 Faraar (2015) Punjabi Movie Trailer 720P HD Gippy Grewal,Cast & Crew Faraar Movie,Songs Of Faraar,HD Trailer,Gippy Grewal New Movie Faraar Release Date.
Gippy grewal latest new punjabi movie Faraar under the banner of Sippy Grewal Productions. Faraar full movie releasing on 28th August 2015.
Film:Faraar
Directed : Baljit Singh Deo
Produced by: Sippy Grewal & Nitin Talwar
Starring: Gippy Grewal, Kainaat Arora & others
Music : Saga Music
Digital Partner : Unisys Infosolutions
Writen by : Jass Grewal
Screenplay: Jass Grewal, Baljit Singh Deo & Sippy Grewal
Dialogue: Prince Kanwal jit Singh
Music: Jatinder Shah, Dr Zeus, Bohemia, Rahat Fateh Ali Khan
Lyrics: Happy Rai Koti, Amrit Maan, S.M. Sadiq, Bohemia & Jagdev Maan
Sound Design: Joe Roorigues
Back Ground Score: Joshilay
Visual Effects: Makarand Surte
Editor: Baljit Singh Deo & Sun Gill
Publicity Design: Jump
Visual Promotion: Trigger Happy
Asst Director: Imroz, Dubbing
Supervisor: Pardeep Suri
Mixing Engineer: Joe Roorigues
Faraar – Gippy Grewal – Official Trailer – Latest Punjabi Movies 2015
https://www.youtube.com/watch?v=4GfC59OoRog
Find out more Entertainment Articles like '' .