Father's Day is a day to celebrate fatherhood and family relations, as well as the role of fathers in society. Throughout all over India, Father's Day is celebrated. It's not a national holiday. We mostly neglect the efforts and contributions made by our fathers in our communities. Father's Day gives us the chance to express and share our love, our appreciation and our respect to these influential leaders.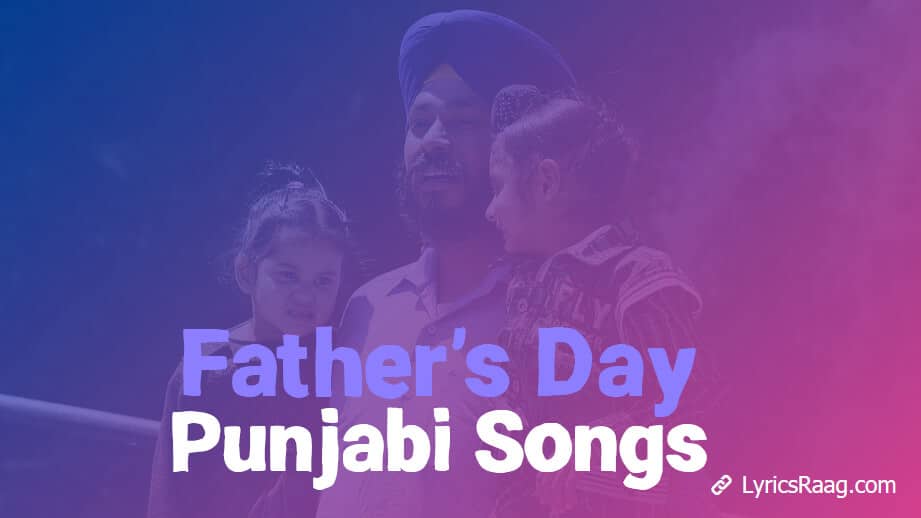 This Father's Day, show these noble gentlemen the unique role they have in your life and the impact they have over you. Explore all the super-dad Punjabi songs on LyricsRaag that you can use to impress your dad as a daughter or a son this Father's Day.
List of the best Punjabi songs for this Father's Day
Baapu by Sidhu Moose Wala (from Snitches Get Stitches Album)
Sidhu Moose Wala's
Baapu Song
is the story of a caring and humble son who asks his father to live carefreely and to let him take care of all the troubles. As a son, Sidhu also asks his father if there's something in the world that he can provide to his dad because he's in a position to buy anything now.
Baapu Nu Aish by Harvy Sandhu
Baapu Nu Aish
the most evergreen track with the most lovable words. The song verses are the dreams of a son he sees for his father. In the lines of the song, he shares how he could make his father proud with his hard work. Harvy Sandhu is the lyric writer and the vocalist.
Bapu Tere Karke by Amar Sandhu
Bapu Tere Karke
is the song of a hard-working young man who recognizes his father's efforts. At the same time, he would like to thank his father for helping him to become independent and successful. Amar Sandhu effortlessly hummed the lyrics of the Punjabi song that Lovely Noor masterfully penned.
Bebe Bapu
Song has the most meaningful words in which a son prays for his parents' long life.
R Nait
is the songwriter, the vocalist.
Bappu by Garry Sandhu, R Cheema & Vikk Cheema
Bappu
featuring
Garry Sandhu
is the story of a son who moves to foreign countries, and after years of hard work and hardship, he still feels that the happiness he had with his father while riding a bicycle is unbeatable. International students who are missing their fathers can use this track to share their affection.
Blessings of Baapu by Gagan Kokri
In the song, a son appreciates and thanks to his father's hard work and explains that his luxurious lifestyle is all due to the hardships his father has been through.
Gagan Kokri
is the singer,
Karan Aujla
is the songwriter, and Yograj Singh is filmed as his father in the music video.
Bapu Naal Pyar Song
by Singga is a track for proud guys who don't chase girls but give first priority to their mom and dad. The enjoyable video of the song stars Yograj Singh & Hargun Randhawa and
Singga
.
Bebe Bapu
is another important song in which Bai Amarjit gives preference to his parents over women. The singer has also written praiseworthy verses.
How could we ignore everyone's favourite voice Amrinder Gill when it comes to meaningful and enjoyable songs? Amrinder Gill's Bapu song has the words of Happy Raikoti. In the lines of the poem, he says he recalls all his father's wishes.
We hope you enjoyed checking the above Punjabi songs that we put up for Father's Day. We 're happy you could find some amazing words that could help you thank your dad for all the good times you've shared and wish your dad the best Father's Day.