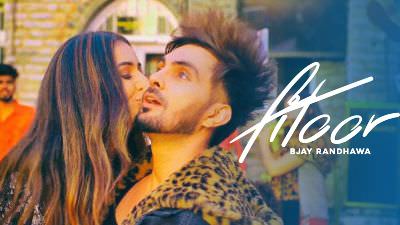 Fitoor Punjabi song with voice of B Jay Randhawa and the entertaining lyrics of Jaani is a latest song presented by TOB Gang (TALENT ON BOARD). B Praak is music director of song and mix & mastering is done by Saffron Studio. True Makers' directed music video of B Jay's new track "FITOOR" is releasing on TOB Gang with choreography done by Sumit kumar.
FITOOR SONG LYRICS
Tera chadeya fitoor
Na jaawi metho door
Main aashiq tera
Haan-haan mashoor,
Le'aya kaali car
Karunga wich pyar
Tu mann ja yaar…
Tera chadeya…
Surme ne ban tere
Munde ne fan tere
M·a·c da makeup laawe
Hundi ni tan tere,
Paawein jadon one-piece ni
Har kudi kare rees ni,
Ak-47 ne mundeya layi nain tere
Tu gori-gori chick
Pink tere lip,
Te nakhre hazaar..
Tera chadeya fitoor
Na jaavi metho door
Mai aashiq tera
Haan, haan mashoor..
Teraa chadeya..
Mere gharde ne ready
Tera nai mannda daddy
Dasso koi ohnu jaake
Daughter teri dil lai gayi,
Oh je tu hoje meri
Property hoju teri
Dasde teri ki salaah
Chup kyon karke beh gayi,
Manneya tu sohni
Te main vi munda oh ni
Jihdi yaari din chaar..
Tera charheya fitoor
Na jaavi metho door
Mai aashiq tera
Haan, haan mashoor..
Sun lai tu gal soniye
Beach te chall soniye
Ajj hi tainu laike jana
Keh na tu kall soniye,
Main te romance karunga
Feeling enhance karunga
Paagal tu .Jaani kita
Lab lai koi hall soniye,
Nerhe-nerhe ho
Na tut je flow
Laade tu ajj paar..
Tera chadeya fitoor
Na jaawin maitho door
Mai aashik tera
Han, han mashoor..
[videopress IXoyN8O0 permalink="false"]