Fool Ishq Lyrics: Armaan Malik, Shreya Ghoshal | Ki & Ka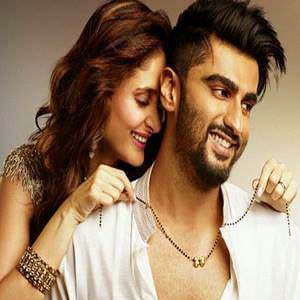 Song: Fool ishq
Singer: Shreya Ghoshal, Armaan Malik
Movie/Album: Ki and Ka (2016)
Lyrics: Amitabh Bhattacharya
Music: Ilaiyaraaja
Released: 25 Feb, 2016
Fool Ishq Lyrics by Armaan Malik & Shreya Ghoshal, is a Duet Hindi Romantic Song From Ki & Ka Film Featuring Kareena Kapoor & Arjun Kapoor.Lyrics of Foolishq Songs Are Authored by Amitabh Bhattacharya in the Musical Composition of Ilaiyaraaja.
Foolishq Songs
Fool ishq, Fool ishq Tera Mera,
Fool ishq, Fool ishq Tedha Medha [x2],
Dil Jispe Aana Na Ho,
Uspe Hi Aata hai Kyun,
Jispar Fa Jana Na Ho,
Uspar Faa Jata Hai Kyun,
Jata Hai Kyun,
Foolishq, Foolishq Tera Mera,
Foolishq, Foolishq Tedha Medha,
Foolishq-Foolishq Zyada Tera.
Sansaniya, Tan Man Mein,
Gadbadiya Dhadkan Mein Karta Hai,
Kyun Karta Hai,
Par Iski Sohbat Mein,
Rehne Ko, Phir Bhi Dil Karta Hai,
Kyun Karta Hai,
Fool Ishq Thod Hai Ye Maana,
Fool Ishq Ka Hi Hai Zamana,
Dil Ko Achha lagta Hai Toh,
Aake Is Se Kyun Churana,
Kismat Walon Ko Milta Hai Yeh Nazrana,
Fool ishq, Fooli shq Tera Mera,
Acha Hi Hai Tedha Medha.
Fool-ishq, Fool-ishq Tera Mera,
Fool-ishq, Foo-lishq Tedha Medha.
Hontoh Pe, Aur Kuch Hai,
Par Dil Mein, Aur Kuch Hai,
Dono Mein, Ik Tu Sach Hai,
Dil Sacha Hoga Toh,
Sach Wohi, Bolega,
Phir Kaisi Yeh Mach Mach Hai,
Fool'ishq Dil Ki Nadaani hai,
Dil Ki Aadat Bachkani Hai,
Fool'ishq Se Hi Darta hai Yeh,
Phir Bhi Full-ishq Karta Hai Yeh.
Bhulake Bhi Bhulaya Toh Ye Jaye Na,
Fool ishq, Fool ishq Tera Mera,
Fool ishq, Fool ishq Tedha Medha,
Fool ishq, Fooli shq Tera Mera,
Acha Hi Hai Tedha Medha