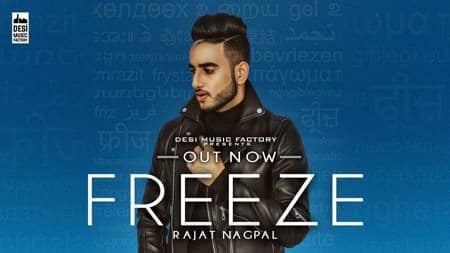 Freeze Lyrics – The intelligent songster Rajat Nagpal releases his new Punjabi song from Desi Music Factory. Preet Hundal is lyrics writer of "FREEZE" and tune is composed, produced by Rajat himself. Luke Biggins have directed music video.
FREEZE FULL SONG LYRICS
Kudi de lak ne haye akh ne
Munde freeze karte ne,
Oh tere piche sare dilli wale
Haye larh-larh marde ne,
O das kiddan kardi kehri
Tera husan bada ae zehri,
Jeda sab mundeya nu dasda,
Chahe pendu chahe shehri,
Tere gharon bahar niklan da
Haye wait karde ne,
Kudi de lakk ne haye akh ne
Munday freeze karte ne,
Oh tere pishay saare delhi wale
Haaye larh-larh marde ne.
Tere pishe mundeya da rush soniye,
Pooray shehar da ban gayi crush soniye,
Oh sade tel de vadh gaye kharche,
Kaiyan te pai gaye parche,
Kaiyan de gaane ban' de,
Hunde .F.M utte charche,
Sab propose karan nu firde,
Par teri naah ton darde ne,
Kurhi de lak ne haye akh nay
Munde freeze kartey nay,
O tere pishe sare dilli waley
Haye larh-larh marde nay.
Freeze karte ne tu munde freez karte ne.