Fuddu Movie Wikipedia Info, Shubham Release Dates of Fuddu Film Star Cast with Songs & Lyrics, Trailer of new Hindi movie fuddu posters & videos.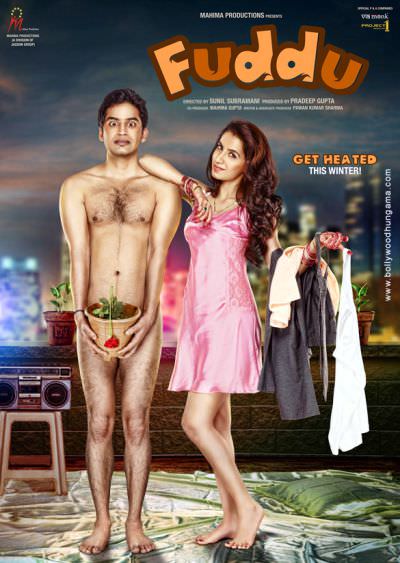 Movie Title: Fuddu (2016) [in English it means Stupid]
Film Genre: Romance, Comedy | Directors: Sunil Subramani
Producers: Pradeep Gupta, Mahima Gupta (Co-Producer), Pawan Kumar Sharma (Co-Producer) & Gandharv Sachdev (Co-Producer)
Writers: Pawan Kumar Sharma | Music Label: Zee Music Company
Star Cast: Shubham, Swati Kapoor, Shalini Arora, Gauhar Khan, Sujeet Pathak, Sharman Joshi, Sunny Leone with Katrina Kaif and others.
Music Composers: Rana Mazumder, Sumeet Bellary | Editors: Shrikant Kelkar
Production Companies: Mahima Productions, ViaMonk Motion Pictures & Paradiso Productions
Movie Running time: 118 minutes | Fuddu Full Film Release Dates: 14th October 2016
Distributors: B4U Movies | Country: India | Language: Hindi
New Fuddu Film HD Trailer Watch Now
Fuddu Hindi Movie All Songs List & Lyrics
1. Tum Tum Tum Ho Punjabi Version
Arijit Singh, Yasser Desai, Sumedha Karmahe
2. Tu Zaroorat Nahi Tu Zaroori Hai
Gandharv Sachdev, Shreya Ghoshal
3. Fuddu Title Track
Divya Kumar, Anita Hassanandani
4. Curves Mere Killerrr Killerrr
Jasmine Sandlas, Sumeet Bellary
5. Tum Tum Tum Ho
Sunidhi Chauhan, Arijit Singh
6. Fuddu Ka Jalwa
Mohit Chauhan
7. Aankhen Meri
Sarosh Sami, Samira Koppikar
8. Chaar Din
Rana Mazumder, Sachin Sanghvi
9. Dil Toh Hai Idiot
Neeraj Shridhar

Find out more Movie Songs like '' .