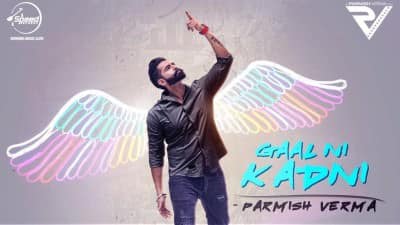 Gaal Ni Kadni Lyrics from Parmish Verma is a new age anthem with its catchy music production of Desi Crew. This Punjabi song has been well inked by Vicky Gill and Speed Records released it. Get meaning of song here. The music video of track "GAAL NI KADNI" of Parmish has music video which is directed by him. The English translation / meaning of line to line verses is available now.
PARMISH VERMA's NEW GAALNI KADNI SONG LYRICS | MEANING
Ho kaiyan di taan soch hundi
Yaari wich cheat di
Par sadi yaari jiwein road concrete di,
Some people intend to cheat in friendship
But our friendship is stronger as a road made of concrete
Poore teehan da puwake tel
Chak laiye weeklan
Ho bebe kehndi hattna ni
Jina marzi main cheek laan,
After pouring petrol of 30 Rs.
We just hangout on our vehicles
My mother says I won't stop, doesn't matter how much she shouts at me.
Lammi hundi jandi hai list yaaro nai di
Sau naalo mehngi
Kade ainak ni laayi di,
Ayi utte aa gaye jadon hindd naiyo shadni..
Ho baki jo marzi hunda ho jave veere
Par gaal ni kadni.
The bill of my barber is getting longer & longer
Never wear the glasses that worth more than 100 Rs.
Won't leave the stubborness if we come to fulfill self-will…Let it be whatelse happens bro,
Just don't abuse.
Kam hove ya na hove
Roz gerhe rehnde shehar de
Sara din vaalan wich hath rehnde ferde,
Kayi ne sharabi
Kayi yaar gym wale aa
Kai ne shareef kayi baale E mere saale aa.
Doesn't matter we got purpose or not
Everyday will go to downtown from the village
Whole day we keep setting the hair style with hands
Some of my friends are alcoholics and others are gym lovers
Some are so innocent while rest are nasty.
Husan bathera khush hoiye dekh-dekh ke
Mallo-malli aunda ae glow sade face te
Turiye Moga nu sanu raat paindi Badhni,
Ho baaki jo marji hunda ho jaave veere
Parr gaal ni kaddni.
Na na na na !
I'm too handsome, It makes me feel happy when I see myself in mirror
There's a natural glow on my face
If we move from our city Moga, We end up with the night at Badhni town,Don't bother about nothing bro, Just don't abuse.
Nakli brand paunde pehli-pehli copy-an
Ainve hi najaij dinde rahida ae thaapiyan
Aukhe wele kam da plan hai banaya ji
Jadon paise ghate auto wala sada taaya ji.
We wear replica brands & first copies
And simply admire it
Always have made a useful plan in tough times
Whenever we run out of money, The auto-driver is our uncle.
Bhaande bhoonde maanj oh sorry sorry
Bunk boonk maar ke padaiyan sab keetiyan
Mode te compartment waliyan ne feetiyan
Khushi bhawein gami nit murgi hai vaddni,
Khad ja teri bhain.. na na na gaal ni kadni.
Saraane laake saunjaan Mortein de coil nu
Daarhi follow kare Parmish de style nu.
By washing the dishes, Oh sorry sorry!
Have finished the studies bunking off from school
The fame of compartments shine on our shoulders
If it's occasion of happiness or despair, Cooking a chicken daily is sure,I sleep peacefully by putting a Mortein mosquito repellent near by my bed
Beard follows exactly Parmish's style.
Ah para mera favorite aa
Chalo ji,
Dekh ke Police jhat ho jaiye kalti
Kedi kudi jedi sanu vekh ke ni palti
Misscall-an joge phone wich hunde note aa
Red-rud light-an wali aashiqan nu shot aa
Jithon saare rokde aa jhandi othe gaddni,
Bakki thonu agge pata hi aa, gal ni kadni
Par gaal ni kadni.
This verse is my favourite
Let's get on with it,
If we see the police, we just run away
Which girl is that who didn't turn back to see us
Just got a little credit in phone to make missed calls
We lovers don't have to follow traffic lights
The place from where everyone prohibits, We have to raise the flag there.The rest you already know, Don't use abusive words.
Satte bas aakhri antra, sohn lagge please
Ik hor fer, main kehda nit gauna
Dhakke na likhaya geet
Yaar Vicky Gill ton
Serious hoke likh dita ohne dil ton
Goldy te Satte kolon music bana leya
Jithon tak aunda siga thoda bauta gaa leya.
Forcibly got Vicky Gill to write this song
He got serious and wrote from the heart
Got the music created by Satta & Goly
As little I knew, I tried to sing.
Hmm, haan ban gayi gal
Lageya je changa sir mathe parwaneya
Maada lageya taan ki han laini meri jaan aa
Agle gaane ch appan end kar shadni.
Ho baaki jo marji hunda ho jave veere
Comment-an ch gaal ni kaddi.
Paindi aa fer dhakk champion
Changa fer agli wari.
Share your love If you like this song
If you don't,  what more ? you wanna kill me ?
In next track, we will just bang it.Let it be, what ever happens.
But don't use the abusive language in comment section.
| NEW GAAL NI KADNI SONG CREDITS | SONG MAKERS |
| --- | --- |
| Album Name: | Gaal Ni Kadni (Punjabi) |
| Performers: | Parmish Verma |
| Songwriter: | Vicky Gill |
| Video Director: | Parmish Verma |
| Music Director: | Desi Crew |
| Label: | Speed Records |
| Release Date: | 06 Nov,2017 |