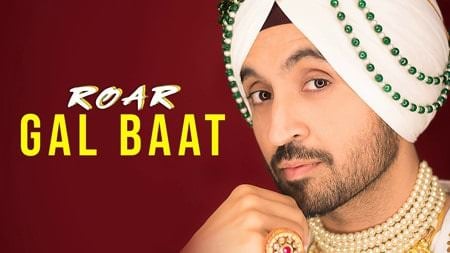 Gal Baat Lyrics – Another superb Punjabi song very well sung by Diljit Dosanjh. Ranbir Singh is writer of Punjabi verses and Galbaat song is from Roar album too.
GALBAAT SONG LYRICS – DILJIT DOSANJH
Ho manzilan de jini na uchayi mukdi,
Kudiyan ch jidi na ladayi mukdi (x2),
Hadh jo shudayi pune di aa mukdi,
Cheleyan ch odon guru-guru hundi aa,
Jithe loki galbaat band karde,
Mitran di galbaat shuru hundi aa (x2).
Borkan .Omar de jeha gabru,
Govt. Firdi aa ban laun nu,
Hollywood waleya ch talk challdi,
Mitran naa' phirde aa sign hon nu,
Share market wangu chade gabru,
Top di currency jiwe euro hundi aa.
Jithay lokki gall baat band karday,
Mitraan di gallbaat shuru hundi aa (x2).
Chauda-chauda seena ni pahaad warga,
Karda kameez' an de aa kaaj dhille ni,
Oh rakhda daraun layi na gun raniye,
Dabke na kar dinda leerhe gille ni,
Oh fake pune ton aa ranbir door ni,
Jini gall kiti oh true hundi aa
Jithey lokee gal baat band karde,
Mitra di gal baat shuroo hundi aa (x2).