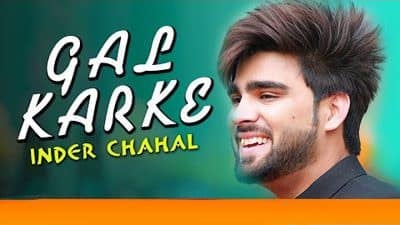 Gal Karke Lyrics – It's a romantic song with delightful vocals of Inder Chahal and deserving music production of Ranjha Yaar. Sucha Yaar is songwriter for "Gall Karke Lyrics" and official music video shall be releasing soon.
GAL KARKE FULL SONG LYRICS
Jihde utte mardi mandeer mundeya,
Mar gayi aa oh kudi teri look te,
Sadkan te phire teri car labdi,
Labdi ni kudi jedi Facebook te,
Number nu shad jatta dil mera laija
Langh jana akh mere wall karkey.
Gall tan jatti naa' teri bani payi ae,
Vekh tan sahi tu jatta gall karkey (x2).
Manneya main rate tere high karte,
Ik wari vekh ke tan hass deya kar,
Tainu vekhe bina din langhda nahi,
Kithay ae location tan das deya kar,
Munde mere piche,
Tere piche auna main,
La lai zor tainu apna banauna main.
Car ch bathaake tainu geda launa main,
Kudiyan naa' bet ayi kall karke.
Gal taan jatti naa' teri bani payee ae,
Wekh taan sahi tu jatta gal karke (x2).
Tere kadman ch ohne dil dhareya,
Thokar te jedi kudi shehar rakhdi,
Hoodie paake shami tere ghaar bahar aundi,
Sheti nai si gharon bahar pair rakhdi,
Puch taan sahi tu babbu haan kahangi,
Laaye hoye paper main rok lawangi,
Jandi ni Toronto Chandigarh rawangi
Already baithi sare hall karke,
Gall taan jatti naa' teri banee payee aye,
Vaikh taan sahee tu jatta gall karke (x2).