Gallan Muk Janiyan Lyrics is a most recently released romantic song from songbook of Maninder Kailey. The name of vocalist is Kadir Thind and music is produced by Desi Routz. If you're looking for meaning or English translation of this song's verses, you can find it below: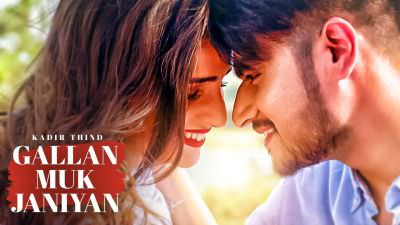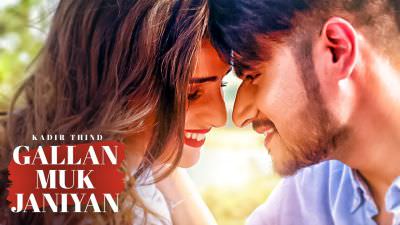 Album / Song Title: Gallan Muk Janiyan
Performers: Kadir Thind
Music Director: Desi Routz
Songwriter: Maninder Kailey
Label: T-Series
The entertaining Punjabi music video of "GALLAN MUK JANIYAN" has direction from Shabby Singh, T-Series Apna Punjab released it with satisfying lyrics of Kailey and equally voice of Kadir.
KADIR THIND's NEW GALLAN MUK JANIYAN SONG LYRICS
Aje te nawa-nawa
Mile ik duje nu
Changi tarah jaan de nai
Haale ik duje nu,
Pehlan-pehlan laggiyan da cha hunda ae
Ban jandiyan kahaniya.
Oh fer ki pyar nal keha karenga
Jadon gallan muk janiya -x2.
We have just met
And we don't know each other very well
First it is exciting to be in love
Later it all comes out as stories
Oh my beloved, What would you tell me when all your love thoughts of me come to an end?
Apni eh zindagi de
Raaz saare khol ke
Roop di tareef nu vi
Hadhon vadh bol ke.
Meriyan adavaan nu tu
Kive sambhna jadon
Hogiyan puraniya.
O fer ki pyar naal keha karenga
Jado gallan muk janiyan -x2.
By exposing all secrets of my life
And admiring the beauty out of limits
How would you take care of my coquetry, when it becomes old ?
Fad mera hath
Kari vaada mere naal tu
Moh diyan tandan wala
Rakhna khayal tu.
Farak na pe jaye vekhi
Dohan wich ve
Mere zindagi de haaniya.
Oh pher ki pyar nal
Keha karenga… jadon gallan mukjaniya -x2.
Hold my hand and make a promise to me
You will take care for my love
Make sure we be same and don't' differ, O my life partner
My dear lover, What would you say if your love thoughts are over once ?
Aidan hi rahin sadaa
Mere naal hasda
Teriyan bahan ch ae
Jahaan mera wassda -x2.
Kailey teri jaan tere naal
Aidan rahugi
Jive rehnde raje raniya.
O fer ki pyar naal keha karenga
Jadon galan muk jaaniyan -x2.
Please keep smiling like this with me
My whole world resides in your arms
Kailey, You dear will stay with you forever like kings & queens does.