Game Song by the duo of Shooter Kahlon and Sidhu Moose Wala is the much-awaited Punjabi song. Read the lyrics of 'Mere Te Nazar Rakheyo' track with translation in English. Sidhu and Shooter both have scripted the lyrics for their verses. Vipul Kapoor is the composer of music. Game Lyrics are going to be the first release from Sidu Moose Wala's music company titled '5911 Records.'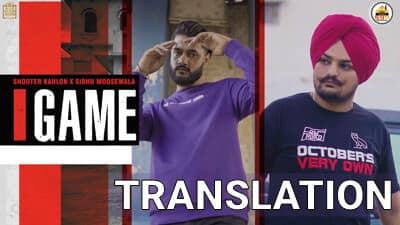 | | |
| --- | --- |
| Name of Song: | Game (Punjabi) |
| Artist(s): | Shooter Kahlon, Sidhu Moose Wala |
| Songwriter(s): | Shooter Kahlon, Sidhu Moose Wala |
| Music Composer(s): | Vipul Kapoor |
| Record Label: | 5911 Records |
SIDHU MOOSE WALA – GAME PUNJABI SONG LYRICS | ENGLISH MEANING | SHOOTER KAHLON
Sidha Ae Sanket Mera Rishtedaran Nu
Marha Dekh Mainu Shad Chukiyan O Naran Nu
I am referring directly to my relatives here, and also to the girls who underestimated me and left me.
Socheyo Na Kache Pair Jatt Dig Jauga
Jide Aya Samne Tan Changi Tarah Aunga
Don't think that I am not settled yet, and I am going to fall. But the day I will come forward, I will come prepared.
Thode Bhane Supna Saja Nahiyo Sakde
Kadi Vi Gareeb Muhre Aa Nahiyo Sakde
You might think the dreams aren't for us. The poor can never come forward, advance, and establish themselves.
Lagda Ae Thonu Asi Cycle-an Te Gij Gaye
Jehde Kade Gadiyan Chala Nahiyo Sakde
You might have a misconception that we're limited to and used to bicycles and that we can't ride cars.
Diary Vich Nam Dagebajan De Ne Chepne
Khad Ke Stage-ey Mein V Sabh Ne Lapetne
I want to jot down the names of all those who cheated, back-stabbed me. And one day when I get to the stage, I'm going to criticize them.
Je Chhati Deu Himmat Tuhadi Os Time Te
Veere Karke Himmat Haseyo
If you had enough courage, would you laugh at me then?
Nazar Rakheyo Nazar Rakheyo
Watch me! Watch me!
Hun Mere Te Nazar Rakheyo
From now on, watch me.
Nazar Rakheyo Nazar Rakheyo
Keep your eyes on me. Keep your eyes on me.
Hun Mere Te Nazar Rakheyo
From now on, keep your eyes on me.
Jan Da Si Jan Da Si
I knew you! I knew you!
Jan Da Si Thonu Tusi Apne Moohoan Daseyo
I knew you; You're going to tell this to everyone.
Nazar Rakheyo Nazar Rakheyo Hun Mere Te Nazar Rakheyo
Watch me! From now on, watch me all.
Ho Kahiyan Si Jo Mainu Sab Gallan Yad Rakhiyan
Kothiyan Na Dhaun Jhaumpdiyan Kachiyan
I remember all the things I've been told. The fact is, the slums are never a threat to the mansions.
Duniya Na Chaldi Ae Bandeyan De Kehan Naal
Ji Din Kde Kise De Vi Iko Jihe Rehn Na
Things don't run according to people's words, but also the days are never the same.
Ha Sachi Gal Jeebh Ji Siyaneyan Di Kehndi Ae
Chadeya Je Sooraj Te Sham Vi Ta Pendi Ae
What the elders have said is right; if the sun has risen, it will also be sundown.
Rabb Ne A Time Aithe Sareyan Layi Banneya
Jagah Kde Kise Na Top Utte Rehndi Ae
God has also arranged a time for everyone. No one's going to stay on top forever.
Lag Jave Time Shortcut Ajmauna Ni
Duniya Te Main Koi Char Din Da Parauna Ni
I don't mind taking the time, but I'm never going to take any shortcuts to success. I'm going to live long enough, so there's no hurry.
Oh Safar Ohna De Hunde Lambe Sohniye
Ni Jehde Chalde Kadam Slow
The journey is longer for those who choose to stroll, Girl.
Nazar Rakheyo Nazar Rakheyo Hun Mere Te Nazar Rakheyo
All eyes on me, All eyes on me. From now on all eyes on me.
Jan Da Si, Jan Da Si Jan Da Si Thonu Tusi Apne Moohoan Daseyo
I used to know you. I'm known to you.
Nazar Rakheyo Nazar Rakheyo Hun Mere Te Nazar Rakheyo
You are going to tell this to others when I get famous and successful.
Jag Utte Hunda Ni Koi Bheti Oye Lekh Da
Dasda Ae Samaa Aithe Kon Kide Mech Da
No one in this world knows what fate is going to bring next. Only time is powerful enough to show who is more competitive.
Tutde Hunde Ne Dekhi Rata Nu Jo Supne
Ha Maye Tera Putt Akhan Khuliyan Ch Dekhda
The dreams that are seen in the night, I saw them shattering. But, dear mother, your son dreams with his eyes wide open.
Ho Mere Ch Pyas Pani Aap Aau Chalke
Tikda Ni Koi Jagah Kise Ali Mallke
I'm thirsty, and the water is going to run to me. No one lasts for a position that has been snatched from the rightful.
Ho Ajj Chad Ohda Kujh Kal Vi Ni Banada
Mehnat To Bina Jihdi Nigah Hundi Fal Te
Not only today but tomorrow, too, such a person will be nothing. The person who is seeking to have fruit without hard-work.
Duniya Ne Rang Nit Nave Hi Dikhaune Aa
Kise Ne Fadaune Hath Kise Ne Chhudaune Aa
Every day, the world tends to show new tricks. Some are going to support you while others are going to give you up and escape.
Ho Sab Same Hath Jadon Ambran Nu Paune
Fer Khad Ke Jarur Takeyo
But when I touch the stars in front of everyone (get successful), you're all supposed to watch me.
[Sidhu Moose Wala]
Oh Gallan Sab Sach Jo Jo Tu Kitiyan
Tu Tan Bs Kitiyan Ne Mere Nal Bitiyan
Dear brother, all you said is a hundred per cent true. You've just said, but I've suffered from all this.
Jihde Nal Behnde Sale Ohnu Dang Marde Aa
Buklan Ch Khed De Aa Sappan Diya Neetiyan
People tend to backbite the people they're sitting with. While they are in your company, such people are also conspiring against you.
Ek Seega Time Lok Taane Seege Kasde
Midle Clas Banda Mainu Seege Dasde
There's been a time when people used to taunt me. And address me as an individual in a middle-class family.
Paise Nal Judge Karde Seege Aukatan Nu
Shaklon Ni Sohna Bai Akh Ke Si Hasde
They used to judge my ability against money. "I am not good-looking at all", they said and laughed at me.
Mein Keha Bai O' tu Game-an Dekhi Paindiyan
Karda Jo Gallan Ehe Sada Nahiyo Rehandiyan
And I said, "Brother, I'm going to change the game." What you're saying isn't going to remain the same forever.
Jurrat Chahidi Jang Zindagi Di Jittne Nu
Balleya Mukam Ethe Shaklan Ni Laindiyan
One must be brave enough to fight and win the war of life. Not only is the handsome face good-enough to achieve the goals.
Ohi Hoyi Galla Reet Duniya Di Change Hoi
Palle Seega Cycle Te Cycle Toan Range Hoi
And that's what happened, and the tradition has changed. I only had a bicycle, and later I owned the Range Rover.
Mardi Ae Gallan Sali Duniya Ta Vehli Ae
Hun Dekh Gt Road Utte Kille Di Haveli Ae
People say anything because they don't have anything else to do. And see, Now I've got a mansion in an acre of land on the GT road.
Dekh Marha Time Tera Dil Kato Ghattda
Time Nahiyo Daur Aya Moose Ale Jatt Da
Why is your heart getting nervous during a difficult time? It's not my time; it's my era.
Jadon Ayi Bazi Teri Ape Hi Age Jayenga
Jinu Kare Rabb Age Oho Piche Kadon Hattda
When it's going to be your turn, I'm sure you're going to rise and shine high.
One who is brought forward by God is never meant to fall back.
Badlange Daur Oh Tu Gall Kehdi Kahi Ae
Dekh Ajj Gabbru Ne Dhood Gadi Payi Ae
We're capable of changing tradition, what do you say? I left everyone speechless today.
Duniya Nu Unjh Tan Main Kalla Hi Davaal Ni Kismat-on Hoge Apan Do
I'm alone enough for the whole world. But it's great, too, that we're two now.
Nazar Rakheyo Nazar Rakheyo Hun Mere Te Nazar Rakheyo
Watch me! Watch me! After this, all shall watch me.
Nazar Rakheyo Nazar Rakheyo Hun Sade Te Nazar Rakheyo
Watch us! Watch us! After this, all shall watch us.

Game Music Video [Official]