GAME TIME LYRICS: Bohemia Feat Various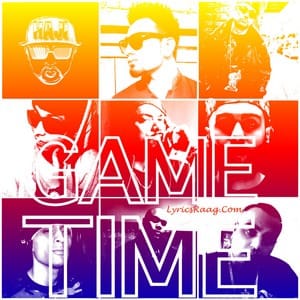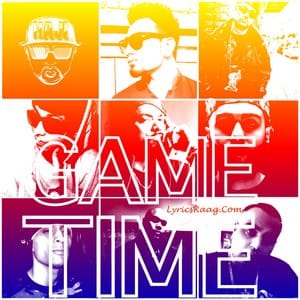 Song: Game Time
Album: KDM Mixtape Vol. 1 (2016)
Artists: Bohemia, J Hind, Shaxe Oriah, Pardhaan, Haji Springer, Raxstar, 3am Sukhi, Young Desi, Gangis Khan & Deep Jandu
Lyrics: All of Them
Label: Kali Denali Music
Released On: April,  2016
game time songs:
[Bohemia],
Game Time Vajje Bass Line,
Tandrust Likhari Sare Par Likhe Sick Crime,
KDM Mixtape Jiwein Criminals,
Sare Kathe Hoke Kam Karan Chale,
Bina Crime, Good Luck,
Ik Toh Ik Khatarnak Shaks,
Ik Te Nai Mainu Sareyan Te Shak,
Kise Ik Di Kiwein Karaan Tareef,
Munde Jehde Mere Naal Sare 420.
[J.Hind],

Ah Chal, I 'm A 420,
Topper Food Charge 400 Fees,
(that's Right!),
Eating On 400 Fees,
Pissing On Your Pants,
Like A 400 Leaks,
Been In The Game,
Since The Gas Tank Was On Khali,
Act Up And Bring It Up,
Happy Diwali!
Burrr.. Waiting For My Nana,
Was The King Of Qwaali,
I Was In My Ga.. Kali Denali!
[Shaxe Oriah],
They Keep On Bumping,
Bumpin My Song My Song,
I Am Of The Cali Confidential,
Chakde Tu Meri Jaan,
Tu Meri Jaan Ahh!
Kdm Double Back Gun,
Yo Bhi Ton,
If You Don't Get Right,
Mere Jaisa Duniya Mein Koi Remix,
Kar Payega, Sherni Ka Puttar Hoga.
[Pardhaan],
Hua Game Time On,
Check Karo Meri Tone,
Kaafi Gussey Mein Hoon,
Duniyawaale Huye Maun,
Volume One K_dm Mixtape,
Desi Hip Hop Ke Avengers,
Panga Lega Kon ?
Hum Kaandi Chorey Saare Cho'dey Ho Re,
Daud'aan Dengey Thaare Saare Dimaag Ke Ghodey,
Jinkey Goddon Mein Anal Thi Humnein Saare Todey,
Tham'ney Thok Dengey M'haare Kalam Ke Hathodey.
[Haji Springer],
Chars Ghode,
Brand New Benz,
And I'm Feelin Like A Winner,
Cause You Know I Always Win Huh!
You Know That I Rep The Kdm Huh!
You Know We Gettin Dat Money,
No Atm Huh!
So Stay Da F**k Up Out My Way,
Or Make My Day My Young Goons Spray The K,
And We Ballin No Fadeaway,
Who Gives A F*k What The Haters Say? B***h!
[Raxstar],
Bit*ch, It's Safe To Say You Ain't The Same,
Since You,
I Don't Need Your Portion,
Make Way For The Apocalyptic Horseman
Dudh Malayi Da,
Everybody Hungry, Pukh Nalo Khayida,
We Don't Pay For Nothing Now,
Muft Sanu Chaida,
Awaz Nai Muft Sanu Chaida.
[Young Desi],
Lo Ji Chakeya Glass Utton Payi Sprite,
Utton Sutya Main Lakk Utte Pit Aala Powder,
Uncle, Chachi Sare E Tabbar,
kdm Mixtape Sunda Fuffad,
Lao Ji Dosto Bazurgo Niyaneyo, Seyaneyo,
Young Desi, Zara Naa Nu Pechhaneyo,
Lo Ji Zindagi Tohn Tang Fire Chakya Kalam,
Jiwein Mast Malang,
Utton Lahore Da Rihaishi,
Putt Tharki Pedaishi, Nale Karda Aiyashi,
Putt Paawin Na Tu Naishi,
Baki Sidhi-Sidhi Gal Dasaan Jaan Da Ni Sanu,
Jehda Khasma Nu Khave,
Beta Dur Fittemuh Tera.
[Deep Jandu],
Munde Nal Sare 420,
Karde Naiyo Kise Di Rees,
Check Karle Speed,
Gaane Aunde Repeat,
Munde Hoge Nu Fakeer Hun Sarhde Shareek,
Munde Nal Sare 420,
Dekho Behke Khichde Neat,
Tole Sire Da Ae Dheedh,
Jithe Jaan Hundi Heend,
Rakhi Kali Ae Dunali Vich Vajdi Ae Beat [x2].
The Founders of Desi Hip Hop collaborate with some of the most talented Hip-Hop artists From South Asia. On this almost "HookLess" great work of art from the Kali Denali Mixtape 'BOHEMIA' sets off the cypher only to unleash his hand selected battalion to complete the job. This revolutionary track features some of the scenes truest MC's along with BOHEMIA Including J.HIND x SHAXE ORIAH x PARDHAAN x HAJI SPRINGER x RAXSTAR x 3AM SUKHI x ADOLESCENT DESI x GANGIS KHAN & The Urban Bhangra Specialist DEEP JANDU.