Gehraiyaan Title song from the Hindi movie 'Gehraiyaan' featuring Ananya Panday, Siddhant Chaturvedi, Deepika Padukone has ravishing lyrics and a divine English translation with singing by Lothika Jha. The sweet-tempered lyrics of 'Tu Marz Hai Dawa Bhi' chantey were penned down by Lothika Jha, Kabir Kathpalia. Kabeer Kathpalia (OAFF) was the artist of GEHRAIYAAN TITLE SONG's corking music. The luxuriant music video of the serenade was managed by Shakun Batra.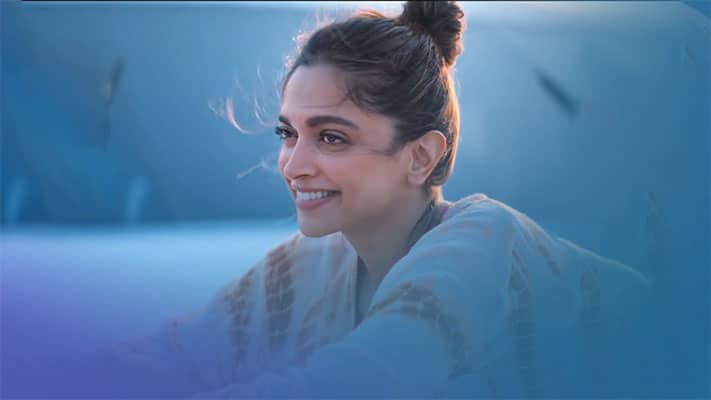 Following the release of the announcement teaser for Gehraiyaan, an Amazon Prime Original upcoming film, netizens are ecstatic to not only watch the film but also to request that the song 'Tu Marz Hai Dawa Bhi' be released as soon as possible.
Many listeners want to know the name of the female vocalist who provided her lovely vocals for the addictive love song. Lothika Jha is the name of a talented singer. The full song will be announced and released in the near future. Stay tuned for more information on Gehraiyaan's music. The lyrics from the teaser full song are provided below, along with an English translation.
GEHRAIYAAN HINDI MOVIE · GEHRAIYAAN TITLE SONG LYRICS ENGLISH MEANING
Tu Marz Hai Dawa Bhi Par Aadat Hai Humein
You are both the cause of my illness and the cure for it. But I've grown accustomed to you.
Roka Hai Khud Ko Lekin Hume Reh Na Sakein
Even though I have restrained myself, I am unable to resist any longer.
Teri Lehron Mein Aakar Aise Hum Bahein
I let myself float away after entering your waves.
Le Doobi Ja Rahi Hai Gehraiyan Humein
And far away they are taking me, drowning me, the depths.
Gehraaiyan Gehraaiyan
The depths. The depths.
Tu Lau Bhi Hai Hawa Bhi
You are fire, you are wind.
Kuchh Jale Hum Kuchh Bahe
I burn a little, I fly a little.
Tujhe Mein Samaye Aise Dhuaan Dhuaan Hue
I surrendered myself to you. I turned to smoke.
Lehron Ki Zid Hai Aisi Lehron Mein Bahe
Stubborn are these waves.
Le Doobi Ja Rahi Hai Gehraiyaan Humein
We are being drowned by the depths.
Gehraiyaan Gehraiyaan
These depths. These depths.
Le Jaaye Humein Yeh Lehre Humein
I'm being carried away by the waves.
Hum Aise Bahe Hum Reh Na Sake
We float away, unable to stop ourselves.
Gehraiyaan
These depths.
Gehraiyaan Official Music Video
Gehraiyaan Title Track (From "Gehraiyaan") Full Song
Frontline is one of Lothika Jha's most popular songs; she is the beautiful voice on the Tu Marz Hai Dawa track.
Let's stream fresh music video for Gehraiyaan Title Song from a luxuriant movie Gehraiyaan.
Lothika's Frontline Song | OAFF
Amazon Prime Video's Gehraiyaan is a film directed by Shakun Batra and produced by Dharma Productions and Viacom18 Studios in collaboration with Batra's Jouska Films. The modern romance drama also stars Dhairya Karwa, Naseeruddin Shah, and Rajat Kapur, in addition to Deepika Padukone, Siddhant Chaturvedi, and Ananya Panday. Let's watch
Lothika Jha's
smoothly hummed
Gehraiyaan Title song Lyrics
and their meaning which are featured in the
Gehraiyaan film
of
Deepika Padukone, Siddhant Chaturvedi, Ananya Panday.
Lothika Jha, Kabir Kathpalia has drafted down the Tu Marz Hai Dawa Bhi Hindi lyrics and
Shakun Batra
superintended the music video.