Genda Phool Song Lyrics by Badshah featuring Payal Dev & Jacqueline Fernandez drops today. Read the translation of Lal Genda Phool Lyrics in English, including its Bengali stanza.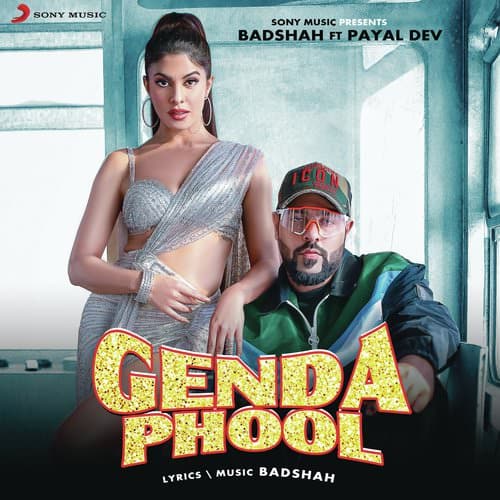 You may be surprised to know, but yes, this is a remake track. The famous Bengali folk track was titled as 'Boro Loker Beti Go' and had vocals from Andrew Kishore. Chakor is the name of the Bengali movie that contained the timeless music number, and it was filmed on Ilias Kanchan, Diti. You may like to enjoy listening to the initial version of the track as well, so we have shared the video below.
BADSHAH | LATEST GENDA PHOOL SONG LYRICS | ENGLISH MEANING
Chale Jab Tu Latak Matak, Laundo Ke Dil Patak Patak,
Sansein Jaye Atak Atak, Aata Majhi Satak Satak,
Girl, when you walk mesmerizingly, you trample down the hearts of many guys.
It gets hard to breathe, and I lose control over my mind.
Bum Tera Gotay Khaye, Kamar Pe Teri Butterfly,
Body Teri Makkhan Jaise, Khane Mein Bas Tu Butter Khaye,
Your waist swaying waist with a butterfly tattoo on it is flawless,
You have a buttery skin as if you only eat butter.
Come on Baby Kick It, Kick It, Katun Teri Ticket Ticket,
Khelta Nhi Cricket Wicket, Par Lelu Teri Wicket Wicket,
Come on, baby! Kick it! Let me get you a ticket.
I don't play cricket at all, but I will be the one to get your wicket.
Boro Loker Beti'lo Lomba Lomba Chul,
She sings from a guy's side: The rich man's daughter has attractive long-long hair,
Amon Mathaye Bendhe Debo Lal Genda Phool,
And I will set a red marigold flower in her hair.
"The literal Hindi meaning would be: Bade Admi Ki Beti Ke Lambe-Lambe Baal Hain, Aur Main Uske Baalon Mein Genda Phool Lagaunga."
Boro Loker Beti Lo Lomba Lomba Chul,
Amon Mathaye Bendhe Debo Lal Genda Phool,
The rich man's daughter has attractive long hair,
I will set a red marigold flower on her head.
Sanwla Sa Rang Tera, Bawla Sa Dhang Tera,
Mujhse Chori Chori Batein Kare Ang Ang Tera,
Tere Liye Kuch Bhi Kar Lunga,
Teri Main Har Lunga Koi Bhi Peeda,
Girl, you have dusky skin, with an insane style.
Says me things, each body part of yours.
I would do anything to ease you from suffering.
Yeah! Pagal Hua Tere Peeche, Jaise Dimag Main Keeda,
Lag Gaye Meethi Jaise Shakkar Shakkar,
Aja Chala Le Chakkar Chakkar,
Baaki Ke Launde Bugger-Bugger,
I Am The Bad As. Mother…
I am crazy for you like a madman.
You are sweet, like a cube of sugar.
Let's fall in love, Girl.
The other guys are displeasing, while I am admirable like Paris.
Heartbeat Missing Jab Tu Look Me In The Eye,
Love Tera Baby Mujhe Take Me To The Sky,
My heart skips a beat as you make eye contact with me.
Your love keeps me in the seventh heaven (or extreme happiness.)
Promise Water Never Coming Down From Your Eye,
You Are My Jaan Baby Never Gonna Lie,
I promise that I will never make you shed a tear, dear.
You are my life, and I will never lie about it.
Boro Loker Beti Lo Lomba Lomba Chul,
Amon Mathaye Bendhe Debo Lal Genda Phool,
The rich guy's daughter has sizzling long hair, and I will set a red marigold flower on her head.
Watch the music video for the track Laal Genda Phool with a definite folk melody fused with rich sounds by Payal Dev, having an impressive Hindi rap from Badshah. Sneha Shetty Kohli is director of the fitting music video released from Sony Music India (YouTube.)
Also, check the Boro Loker Beti Go original song from Chakor film, Bengali lyrics inked down by Julhas Chowdhuri Plash with authentic music tune from music director Alam Khan.
The songsters from two different genres, Badshah, a Hindi-Punjabi rapper, and Payal Dev a vocalist-composer known for romantic tunes, come together with a new banger 'Genda Phool.' The particular song has its lyrics also scripted down by Badshah, while the Bengali vocals are from Payal Dev. Find out the meaning of 'Lal Genda Phul' Song's full words.