"Gone Girl (Ladki Kharab Kar Di)", with the translation of its captivating lyrics, is an electrifying anthem that takes the world of Hindi music by storm. With the dynamic duo of Badshah and Payal Dev lending their powerful voices to this track, it's a captivating fusion of rap and melody that demands your attention.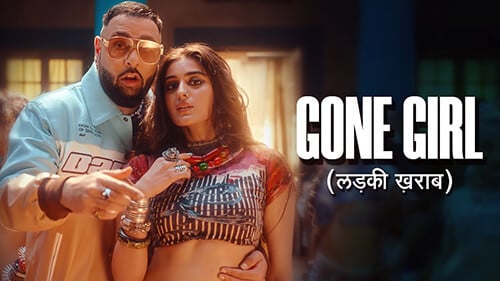 Badshah's ingenious lyrics for 'Gone Girl' vividly depict transformation and allure. The song's narrative unfolds like a thrilling journey, where the protagonist finds himself trapped by the intoxicating charm of a woman who has turned his world upside down. The lyrics delve deep into the complexities of human emotions, unraveling the impact of love and temptation.
The music, which Badshah and Aditya Dev created, pulsates with energy while seamlessly fusing contemporary beats with traditional elements. The song's composition propels the narrative forward, mirroring the emotional rollercoaster that the protagonist experiences.
GONE GIRL (LADKI KHARAB KAR DI) SONG LYRICS ENGLISH MEANING
Baithi Baithi Mein Tune Aag Bhar Di, Khali Bottle Mein Sharab Bhar Di
You lit a fire inside me when I was sitting back and relaxing. It was as if you had poured whiskey into an empty bottle.
Teri Kasam Bilkul Seedhi Sadhi Thi Main, Tune Ladki Kharab Kar Di
I swear I used to be so simple until you spoiled me.
Ek Bat Samajh Le Ae, Main Bolun Kam Aankhon Se Padh Le Ae
Understand one thing: I talk less, and you read from my eyes.
Game Ke Top Pe Baitha Ae, Jiske Bhi Bas Ki Ho Aake Padak Le
Hey, anyone wants to come and catch me, I'm at the peak of my rap game.
Inse Game Crack Hi Nahi Ho Raha Na, Hit Koyi Track Hi Nahi Ho Raha Na
These guys aren't getting anywhere. None of their songs have gone on to become significant hits.
Yahan Phir Maine Scene Change Kiya Aur, Kuchh Logon Ka Comeback Hi Nahi Ho Raha Wooo
I've changed the scene again here, and some people's comebacks aren't happening.
Badshah Hai Nam Meri Jan Meri Jan, Pyar Se Mujhko Woh Baddie Bolti Hai Ae
My name is Badshah, my sweetheart. She calls me a baddie with love, eh?
Game Mein Laundon Ka Bap Hoon Baby, Ek Tu Hi Thodi Hai Jo Mujhe Daddy Bolti Hai
I'm the father of all other rappers in the business; you're not the only one who refers to me as daddy, baby.
Subah Se Sham Tak Bas Tera Nam Loon
I recite your name from sunrise to sunset.
Tujhko Jo Dekhun Main Dil Apna Tham Loon
I cling to my heart every time I see you.
Jo Tu Mujhe Chho Le To Badan Mein Sansani
My body twitches when you touch me.
Khud Ko Samjhati Hoon Ke Sabar Se Kam Loon
I tell myself to deal with it slowly.
Neendein Meri Tune Haram Kar Di, Gandi Meri Tune Zaban Kar Di
You've disturbed my sleep, and you've taught me obscene language.
Teri Kasam Bilkul Seedhi Sadhi Thi Main, Tune Ladki Kharab Kar Di
You've spoilt this girl, me. I promise I used to be really simple.
Koyi Ungli Karta Hai To Main Banh Bhi Chadhata Hoon
If someone messes with me, I'm a tit-for-tat master.
Par Samne Ho Bandi To, Main Good Boy Ban Jata Hoon
But when there's a woman in front of me, I turn into a decent guy.
Yo Udti Hain Khabrein Leta Na Stress,
Yes, the news always comes out, but I don't mind.
Love Game Ka Carter On To The Next
I'm Carter from Love Game, and I'm on to the next.
Ho Plane Hai Private Life Hai Bless,
I have a private jet, and my life is much blessed.
Mutthi Mein Game Mere Ghante Pe Press
I run the rap game, and the media doesn't worry me.
Bad Boy Shah Kaise Tujhe Tere Bas Ka Laga, Na Mujhe Aise Maska Laga
What made you believe we'd make a good match? Don't try to enchant me like that.
Rahi Na Kisi Kam Dham Ki, Jab Se Ladki Ko Chaska Laga Mera
As she developed a habit of mine, the girl lost all usefulness.
Yo! Yo! It'S Your Boy!
It's Your Boy!
Ladki Kharab Kar Di
This girl (me) has been spoilt by you.

Gone Girl (ladki Kharab Kar Di) Hindi Music Video | Badshah | Payal Dev
Director Manish Shunty weaves a visually captivating tale in the music video, with Mia's charismatic presence adding another layer of intrigue. The song's transformation, passion, and desire themes are brought to life through stunning visuals that perfectly complement the lyrics.
As we explore the translation of Gone Girl AKA Ladki Kharab Kar Di lyrics, the depth of emotions becomes even more evident. The song captures the essence of temptation, infatuation, and the irresistible allure of newfound love. The translation allows listeners to fully grasp the emotional intricacies embedded within the song, enhancing their connection to the music.
SONGS FOR YOU
Barishon Ke Mausam Mein — Payal Dev, Udit Narayan
Naseeb Se — Payal Dev, Vishal Mishra
Sab Gazab — Badshah
Gone Girl (ladki Kharab Kar Di) Song Details
Track
Gone Girl (ladki Kharab Kar Di)
Performer
Badshah, Payal Dev
Lyrics
Badshah
Music Maker
Badshah, Aditya Dev