Gucci Lyrics from Aarsh Benipal and Deep Jandu: The song is an urban Punjabi number which is written down by Jassi Lohka.T-Series is company label of the tune and leading vocals are from Arsh Benipal whereas the music is given by Deep Jandu, get its lyric here: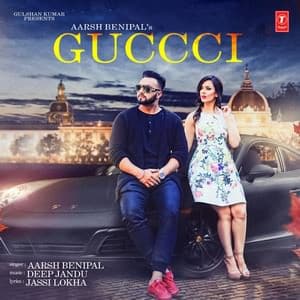 Track Name: Gucci
Singer: Aarsh Benipal
Music Director: Deep Jandu
Lyrics Writer: Jassi Lohka
Label: T-Series
GUCCI PUNJABI SONG LYRICS
Deep Jandu
Aarsh Benipal
Aa geya ni ohi billo time Aha!
Pehlan serious leya na tu yaar ni
Yaari todgi si adh-vichkar ni (x2),
Ik time si tere ton jatt jaan vaarda
Time si tere ton jatt jaan vaarda
Hun sach jaani pehla jeha moh na reha,
Chad de malauni akh Gucci waliye
Goriye jattan da putt oh na reha (x2).
Range wala jeda tu banaya nawa yaar
Teri sohniye Snapchat dasdi
Sadi gal hor nawa chal gaya daur
Hun rehgi na ni gal tere vass di
Hun dekh ke chadaiyan pashtaawein goriye
Dekh ke chadaiyan pashtawein goriye,
Gallan goriyan te pehlan jeya glow na reha
Na,
Chadd de malauni akh #Gucci valiye
Goriye jattan da putt da oh na reha (x2).
I got so much money on my mind
Then am always underground
Baby I don't really rhyme, but I had to..
I say Gucci or Parada
Lahore to Nevada
My crew stay strapped… cause we had to.
Velliyan de vich kade patteya si tu
Hun anakhi subha de asi patte aan,
Shad jaave jeda kade layi da ni muh
Rakhe rule zindagi de asi pakke aa.
Rang rabb de tu dekh pishe lagi duniya
Rabb de tu vekh pishe lagi duniya
Jeda ghumda si tere pishe oh na reha.
Shad de milauni akh @Gucci waliye
Goriye jattan da putt oh na reha (x2).
Si ga gumnaam fadi babe ne aa baahn
Hun area ch chalda aa naam ni
Dekh dekh jinu ignore seegi kardi
Oh ajjkal Jassi Lohka aam ni,
Pehla tuvi hawa vich uddi firdi si (x2),
Hun tere 'ch vi pehla jeya flow na reha.
Chad de malauni akh_Gucci_waliye
Goriye jattan da putt oh na reha (x2).
Outro,
Times never stay the same
One day you are something
One day you are not
So keep your close ones close.