Hanjuan De Saave in soulful vocals of Mohit is a heart-touching song with satisfying Punjabi lyrics drafted by Raahi. The music film of song directed by Jaskirat Singh & Jasmine Kaur stars Vaishali, Rashi Bhatia featuring Mohit.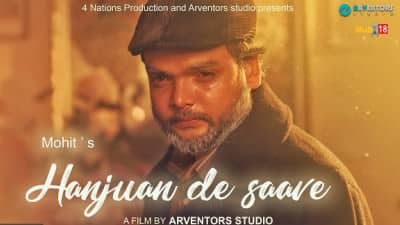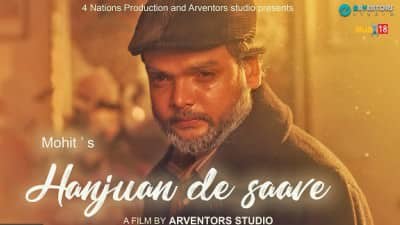 Album: Hanjuan De Saave
Singer: Mohit
Music: Young Beat Force (YBF)
Lyrics: Raahi
Label: 4 Nations Productions
HANJUAN DE SAAVE SONG LYRICS MOHIT
Hath jod ke khadaa main
Mainu das main ki paaya,
Es gal di sazaa ae
Tainu rooh nal milaaya -x2,
Aisi hoyi si ki gal
Kar gayi tu kinara, haan,
Ni main hanjuan de saanwe
Raatan baith ke guzaraan -x2.
Baitha luk-luk rowaan
Ve mainu tu jo sataya
Main ghut sabran da peeke
Par vi na jataya,
Fer vi tu jadon mainu
Jad-kad vi bulaya
Sab kujh main luka ke has
Daao kadman ne laya.
Tere raahan wich raahi khada
Reha si vichara, haan.
Ni main hajuan de saave
Ratan baith ke guzaran -x2.
Tere naam wala deeva
Ni main dil ch jagaya
Teri gallan wali lao ne
Taan vi dil hi jalaya.
Eh hoya mere naal jo
Na ja sakda bhualay
Pal do pal wich hi
Mainu maar E mukaya.
Kita jis te yakeen
Tera si oh laara.
Nee main hanjuaan de saanwey
Rataan baithke guzaraan -x2.
(Dialouge / Shayari)
Pyar si nai
Pyar hai
Ajj vi, ajj vi
Dard hunda ae
Par farolan dil de varke jad vi jad vi.