Read the Har Funn Maula Song Lyrics (Har Fun Mola track) that are performed by Zara Khan, Vishal Dadlani for Koi Jaane Na Hindi movie, with their English translation. Elli Avrram, Aamir Khan are the stars who acted in the HAR FUNN MAULA music video. Learn the meaning of HAR FUNN MAULA's Hindi lyrics in the English language. The author Amitabh Bhattacharya wrote-down the song-lines 'HARFAN MAULA' and Amin Hajee is the video-director who supervised the music video.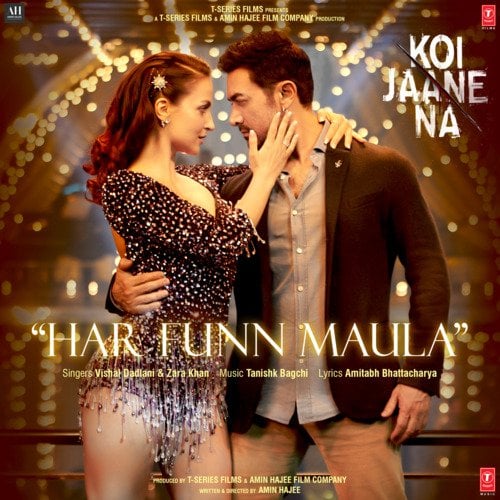 Koi Jaane Na | HAR FUNN MAULA Hindi SONG LYRICS ENGLISH MEANING
Hadson Ke Is Shehar Mein Aaj Koyi Ayega
Khol Dega Raz Ya Phir Raz Khud Ban Jayega
Rat Ki Agosh Mein Ye Raz Rehne Dijiye
Kijiyega Kal Khulasa Aaj Rehne Dijiye
To this city of casualties, somebody's about to come today.
Is he going to open up the secrets or become a secret himself?
Let this secret stay safe in the embrace of the night.
Please, reveal it out tomorrow, and leave it for now.
Hai Koyi Parwana Yahan Jo Jan Pe Apni Khelega
Ashiqui Mein Hoke Fanaah Bahon Mein Shama Ko Le Lega
Itni Haseeno Pe Kitni Dafa Ye Dola
Phir Bhi Fakeeron Ka Pehne Hue Hai Chola
There's a lover here, and he's going to risk his life.
He would lose himself in love and embrace the flame in his arms.
He's fallen for many beautiful women,
but he's still dressed like the saints.
Itar Ki Sheeshi Hai Jahan Bhi Khul Jaye
Hawa Mein Ghul Jaye Dil Jogi Da Har Funn Maula
Har Funn Maula
He's like a bottle of perfume, and wherever it is opened, it spreads in the air.
The heart of the devotee is the Master of the Arts.
Master of the Arts.
Aye Toh Kayi Karne Idhar Dil-E-Bekarar Ki Dawa
Shab Se Sehar Hote Hi Magar Bari Bari Sare Ho Gaye Hawa
Shab Ke Andhere Mein Jannat Dikhane Wala
Main Toh Sawere Bhi Dil Na Dukhane Wala
Many have come here to get a cure for their restless heart.
From night to morning, they were all gone.
I am the one who could show you the heavens in the night.
I don't even intend to hurt anyone's heart during the day.
Ye Meri Bahon Mein Rat Jo Guzre Woh Umar Bhar Jaisi Hai
Dil Jogi Da Har Funn Maula
Har Funn Maula
A night spent in my arms is like a lifetime.
The heart of the saint is the master of the arts.
Master of the Arts.
MORE SONGS FOR YOU
Har Funn Maula Music Video | Ft. Aamir Khan | Elli Avrram
Let's watch the Har Funn Maula Hindi music video from the Koi Jaane Na film.