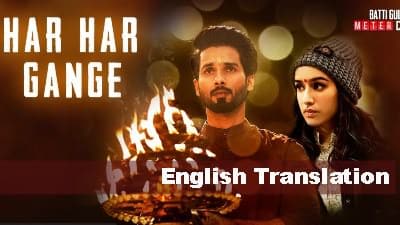 Har Har Gange song with soothing vocals of Arijit Singh and with meaning of lyrics in English (full song translation) is out now. Batti Gul Meter Chalu is movie this song is from and Shahid Kapoor, Shraddha Kapoor are the actors featuring in music video of song released yesterday. Sachet-Parampara is composer of lovely song music while Siddharth-Garima is the one who wrote down lyrics to "HAR HAR GANGE" Hindi tune, musically produced by O2srk.
ARIJIT SINGH | HAR HAR GANGE SONG LYRICS | MEANING
Karm jisay pukaray
Wo pohnchay Ganga kinaray
Na kar maili tu Ganga
Tann dhoye mann toh ganda.

The ones called by their deeds visit the pious river Ganga's bank
Don't corrupt the Ganga by washing just your body while your heart is still filled with earthly filth.

Palat ke phir na aani
Boli baat aur behta paani,
There is no coming back of the word said and the running waters.

Naa kar mailee tu Gańga
Tan dhoye mann to ganda.

Do not pollute the Ganga with your body,
You're only purifying your body with holy waters of Ganga while your mind is still unclean.

Mann paawan ho Ganga mein doobay nahaaye
Mann raawan jo lehron mein tunay bahaaye,
Jo chala gaya laut ke phir naaye
Tera karam hi hai jo sang tere hi jaaye.
It sanctifies the mind when bathed in Ganga
The mind is a sinner like .Raavan which you have let go in the waters of Ganga,
The ones passed away won't come back now,
Just your deeds shall follow you till the end.
Mann paawan ho Ganga mein doobay nahaaye
Mann raavan jo lehron mein tunay bahaaye..
Hár-har Gánge, har-har Gange,
Har hár Gange Gange….
Hail the Ganga, hail the Ganga!
Jo paas tere wahi tera
Baaki sab moh ka phera
Tu kyun samajh na paaya
Tann mitti hai mann maaya.
What is with you in your mind, your heart is yours
Rest all is delusion,
Why couldn't you get it that the body is nothing more than sand and the mind is an illusion.
Bhagwa chola wo tann pe jo tu odhay
Har chola tu jaayega peeshay chhoday.
The yellow colored dress you wear very proudly,
You will leave every dress behind when you are called by .Gods.
Man paavan ho Ganga mei doobey nahaye
Man raavan jo lehron mein tooney bahaye.
Minds are purified when taken bath in holy river Ganga
Mind is a sinner, an illusionist which we shall let go with the waters.
Har-har Gańge, har-har Gange,
Har har Gange Gańge….
Hail the Ganga!