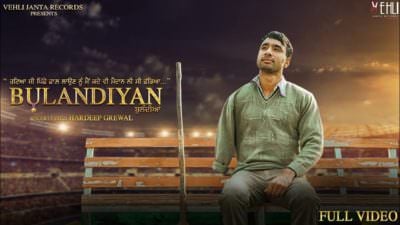 Singer: Hardeep Grewal
Album / Name of Song: Bulandiyan (Punjabi)
Composer of Music: R Guru
Lyrics Writer: Hardeep Grewal
Label: Vehli Janta Records
Bulandiyan is an inspiring song featuring Hardeep Grewal, Mahavir Bhullar, Gurpreet Toti, J. Devin & others. The Punjabi lyrics to it are drafted by Hardeep Grewal, he is also the singer of song. R Guru have produced music and mixed-mastered it. Ankur Chaudhary is video maker of Punjabi number.
BULANDIYAN FULL SONG LYRICS HARDEEP GREWAL
Hatteya si pishe jaan laun nu
Main kade vi madaan nai si shaddeya,
Sunuga khadaaka wajji satt da
Jadon fatteyan ch kill geya gaddeya.
Ho baaj ne udaari jadon bhar li
Fer kithe mannda pabandiyan.
Painda apne mukkadran na' bhidna
Saukhiyan nai paunia bulandiyan.
(Meaning / translation: You have to fight your destiny,
It's never easy to reach heights.)
Hathan diyan dekh ke lakeeran nu
Kade ture jande raah karo change na
Hunde supne ameer ya gareeb nai
Kade jeb dekh karo set range na.
Ho poori neet naa' na paani dita phullan nu
Kade fer aun na sugandiyan.
Penda apne mukaddran na bhidna
Sokhiyan nu poniya bulandiya.
Haq hathiauna je tu apna
Add kita palla naiyo sarna
Ehna hathan naal likh bhaag apne
Dassan nauhan di kamayi sikh karna.
Ho chak kalam te likh itehaas tu
Shad likhniya eh tuk bandiyan.
Painda apne mukkadran na' bhidna
Saukhiyan nai paunia bulandiyan.
Ho dekhi Grewal'a na tu darr ji
Zindagi sangarsh'an de naam ton,
Baad ant to be-ant zor maariye
Haar manniye na pehlan anjaam ton,
Oh jit ke vi janda fer haarda
Rehnda khed da jo chaalan sadaa gandiyan.
Bada zor lokan ne launa
Thonu khudde laun layi
Himmat na shaddeyo apni jagah te khade reho,
Ik khud te rakh vishvas te duja rab nu bhulleyo na
Jo ohde naal kita vaada ohte arhey reho.
Penda apne mukaddran na bhidna
Saokhiyan nu paoniya bulandiyaan.