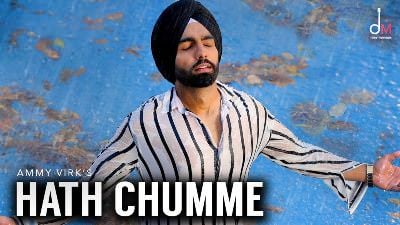 HATH CHUMME SONG LYRICS – The Punjabi song by Ammy Virk with meaning in Hindi language, fonts is added. Jaani is writer of these verses and B Praak is composer of music. If you're looking for English translation of Punjabi song "Hath Chumme" lines you can read on this page with HD music video added.
Ho ik gall te das mainu
Ho zehan ch ae mere
Ohne matha chummeya pehlan
Ya hath chumme tere -x2,
Oh dear, tell me something
Which I am having in my mind right now,
He kissed your forehead first or your hands ?
इक बात तो बता मुझे
जो ज़ेहन में है मेरे,
उसने माथा चूमा तेरा
या पहले हाथ चूमे तेरे ।
Ho tere bullan di tareef
Pakka keeti honi aa
Tere jism te nishani koyi
Diti honi ae,
Haye kujh taan hoya ae
Dona de dasde chehre.
Surely, he would have praised your lips,
And given marks on your body,
Something has truly  happened,
The faces of you two are telling it.
तुम्हारे होंठों की तारीफ पक्का की होगी,
तेरे जिस्म ने निशानी कोई दी होगी,
हाय कुछ तोह हुवा है
दोनों के चेहरे बताते हैं ।
Ohne matha chumeya pehla
Ya hath chumme tere -x2.
Ohne matha chummeya pehlan
Yaa hath chumme tere.
Ho mainu supne aunde rehnde aa
Ohde te tere ni
Ohnu seene te sulawein
Tu har raat hanere ni -x2,
Mera chehra nai ghumda
Tere odon chaar-chufere?
I dream about you and him,
You sleep with him in the dark nights.
मुझे सपने आते रहते हैं
उसके और तुम्हारे,
उसके अपने सीने पर सुलाती हो तुम हर अँधेरी रात में
मेरा चेहरा नहीं घूमता तुम्हारे चारो-ओर उस वक़्त ?
Ho ohne matha chummeya pehla
Ya hath chumme tere -x2.
He kissed your forehard first or hands ?
Jaani wangu pyar os ton
Zaahir nai hona
Paise wala taan hona
Par shayar nai hona -x2,
Ohde naal le layi tu
Main maut naa' le lau phere.
I am sure he won't be able to express his love like Jaani
He may be a wealthy person but not a poet
You marry him and I will marry death.
जानी जैसे प्यार उस से ज़ाहिर नहीं होगा
पैसे वाला तो होगा मगर शायर नहीं होगा,
उसके साथ ले लेना तुम,
मैं मौत के साथ ले लूंगा फेरे ॥
Ho ohne matha chummeya pehlan
Ya hath chumme.
ओने माथा चुम्मेया पहलां या हथ चुम्मे तेरे॥
Song Credits / information:
Album Name / Song Title:
Hath Chumme (Punjabi)
Artist(s):
Ammy Virk
Lyrics Writer(s):
Jaani
Video Director:
Arvinder Khaira
Music Director:
B Praak
Label:
DM – Desi Melodies
It's a Punjabi sad song with beautiful vocals of Ammy Virk and equally good music direction from B Praak. The songwriter Jaani returns with new song from his own music company "DM Desi Melodies."