Haye Ve is the latest Punjabi sad song by 'Ammy Virk' and features Ketika Sharma. Get to know the meaning of 'Haaye Ve Lyrics' from the translation in English, shared below. Vikas is the vocalist who has lent the backing vocals for this track, and Sunny Vik is the composer of music.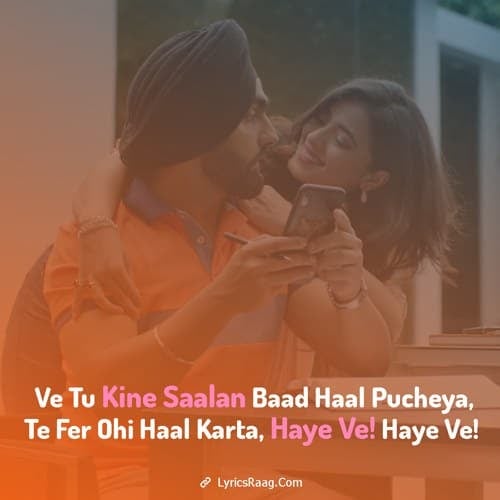 | | |
| --- | --- |
| Song Name: | Haaye Ve (Punjabi) |
| Singer(s): | Ammy Virk, Vikas |
| Lyrics Writer(s): | Raj Fatehpur |
| Composer(s): | Sunny Vik |
| Video Director(s): | Navjit Buttar |
| Music Publisher: | Just Music |
AMMY VIRK | HAYE VE SONG LYRICS | ENGLISH MEANING
Meri Gall, Meri Adaa,
Ya Koyi Galti Tainu Kujh Yad Howega,
My talks, my style, or a mistake, you might any of these.
Mere Jinna Tainu Pyar,
Nahiyo Karna Bhawein Koyi Mere Baad Howega,
No one will be able to love you as I do, even if someone comes into your life after me.
Ve Tu Kineyan Di Zindagi Si Kha Layi,
Mainu Vi Ohna Nal Karta,
You have spoiled the lives of many and have made me too one of those.
Ve Tu Kinne Salan Bad Hal Pucheya,
Te Fer Ohi Hal Karta (x2),
After many years, you have asked about me and again made me feel awful as earlier.
Haye Ve! Haye Ve! Haaye Ve (x2),
Oh! Lord. Oh! Lord.
Duniya De Wich Loki Sacha Pyar Bhull Jande,
Mere Kolon Tera Jhootha Pyar Ni Bhullda,
It is easy for people to forget about their true love. But I am not even able to forget your fake love.
Ik Vari Zindagi Ch Karda Pyar Je Tu,
Dss Mainu, Das Mainu Yara Main Kyon Rulda,
If you loved me once, why would I be devastated like this?
Aini Nai Si Ummeed 'Raj' Tere Ton,
Tu Vi Ae Kamal Karta,
I was not expecting this from you. Raj, I am shocked to see what you have done to me.
Ve Tu Kinne Salan Bad Hal Pucheya,
Te Pher Ohi Hal Karta,
Oh! Cruel, after all these years, you have come to ask about me, and it all only made me feel awful.
Ro Roke Karenga Tu, Thoda Thoda Darenga Tu,
Paina Tainu, Paina Tainu Aisa Kam Karna,
You will be crying and feel scared, such an act you will have to do.
Ki Socheya Si Main, Te Ho Gaya Ae Ki,
It didn't go as I thought.
Sanu Ki Pata Si Assi Tere Hathon Marna (x2),
I never knew I was supposed to get killed by you.
Ehsan Kithon Bhull Hona Tera,
Jo Yara Jandi Vaar Karta,
I shall never be able to forget the favor you have done to me by taking my life and easing me from the suffering.
Ve Tu Kinne Saalan Bad Hal Pucheya,
Te Pher Ohi Hal Karta,
After all these years, you have come to ask about me, and again make me feel miserable.

The above is the
full lyrics
for the brand new Punjabi song
'HAYE VE,'
also spelled as 'HAAYE VE,' and
Ammy Virk
is the artist who has performed in its music video alongside actress Ketika Sharma, as well as voiced it. Sunny Vik gives the track a suitable music composition with the relatable lyrics scripted by the songwriter Raj Fatehpur. Find out the meaning of each song-line to this track in English.